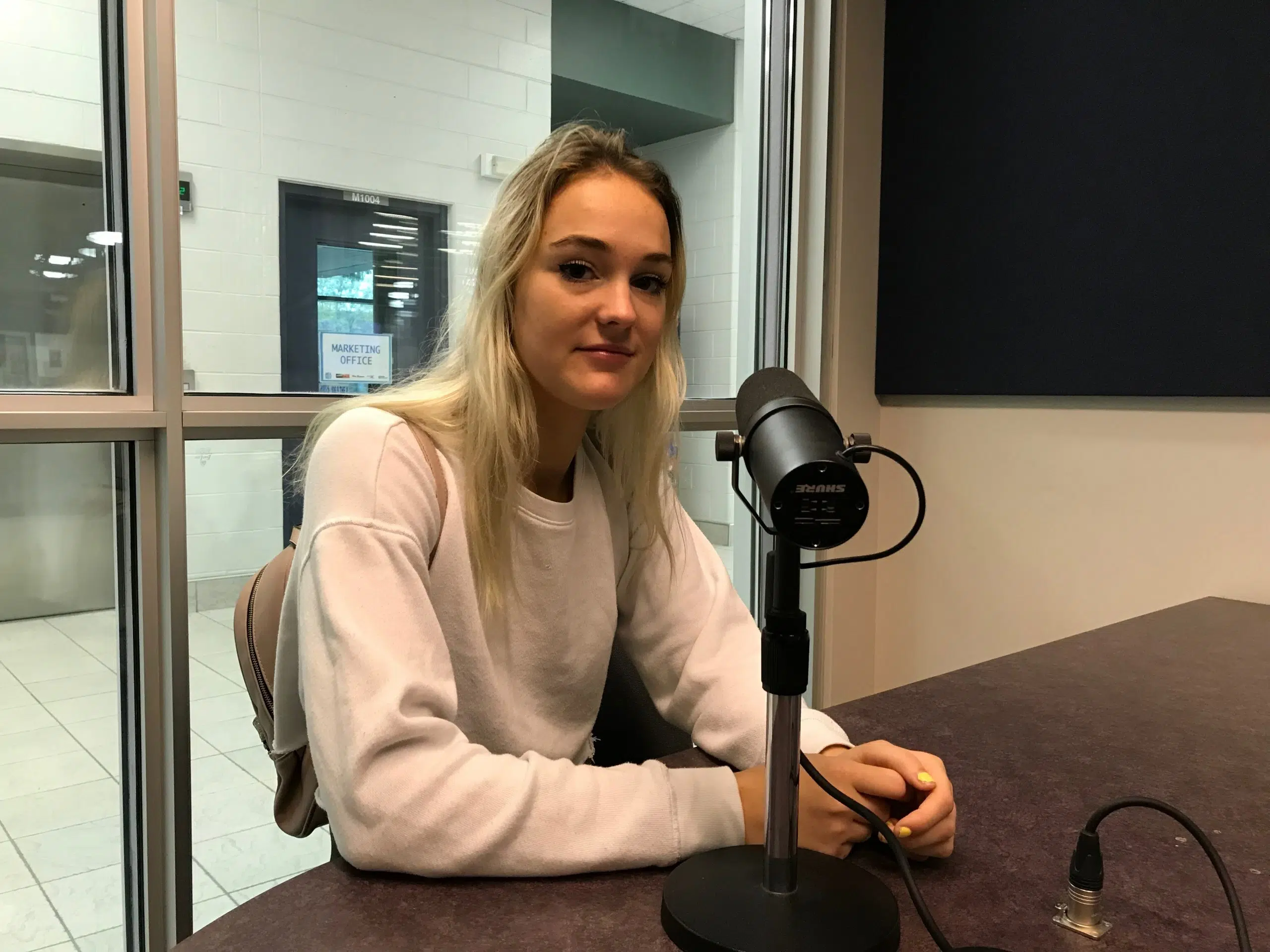 A Fanshawe student in the Police Foundations program was involved in an unprovoked attack a week ago near Oxford and Empire Street.
Hanna Templeton told XFM News in an interview, she was on her way to get coffee off-campus at about 9 pm last Tuesday night when 3 young men approached her, pushed her, and kicked her to the ground, causing bruises and injuries to her face.
"They were yelling at me, telling me to hang out with them, to come over. The more I ignore them, the angrier they got; I could hear it in their voices," tells Templeton, "I didn't speed up, as I am walking, they still yelling at me and I can hear them get closer; they crossed the road, got ahead of me, and then crossed the road again, at that point I was scared, so I started running. They chased me down and that's when they beat me up."
She says it is a night she will never forget and will haunt her forever.
"I can't go through the day without thinking about it. I still have the bruises in my arms , I see them everyday. As of now, it's just a reminder, but I feel like I will never forget it; It will be bugging me until I see their faces again and figure out why," says the student.
Templeton made a post on social media about the incident.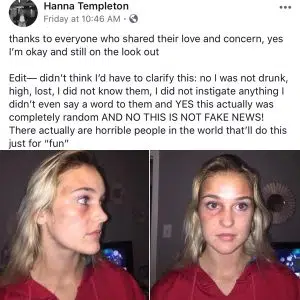 "I just wanted to get the message across that there are bad people in the world that would do anything for no reason. I wanted to warn people to not walk alone, specially girls because we are the main targets," she adds.
About 1,300 people shared the post, which received more than 10 comments. Some of the responses were surprising for Templeton.
"A lot of people on that post are saying that I was drunk, or I provoked them, or I said something. I even had someone saying that it was fake news just because there is no news reports," she tells.
"I have no idea why these people would do that. It's just crazy how someone will hurt someone else just for fun because I didn't talk to them, or anger them somehow," she says in a statement.
London Police and Campus Security are aware about the incident and the investigation is on-going. However, London Police has not yet sent out a report on it.
Templeton says that police and campus security have been very supportive and that she wishes incidents like these don't happen again.
"They gave a portfolio with help lines and crisis lines, a type of a whistle that you pull a string and it screams, so if I am ever out I can take that with me. Same with London Police, they said they could set up counselling for me and so did Fanshawe. They were really helpful," says victim of assault.
CAMPUS SECURITY SENTS OUT SAFETY MESSAGE FOR STUDENTS 
Earlier this week, Campus Security sent out safety tips for students to stay safe and aware of their surroundings when travelling on and off-campus.
"Anywhere you go, doesn't matter where you are, the college, travelling, downtown, going out, you always have to be careful, or be aware of your environment for where you walk, time a day, walk with a friend, make sure you have a phone with you, walk where it's very lit; it's basically protecting yourself, as best as you can," says Ed Pimentel, Campus Security Manager.
They say they're are aware of the two recent incidents off-campus involving the safety of students. Therefore, they felt the need to re-enforce these tips.
"Students who are not from the area, or it's their first time away from home, their mind is distracted. A lot of them carry laptops, phones while walking down the street and they don't know. Those who want to cause harm, they know where to go. That's what I mean by 'targeting environment'. That's where you may see an increase of incidents like this," adds campus security manager.
Fanshawe offers a Safe Walk program which is only for on-campus walks. As well as, a Stay Safe app that students can make use of.