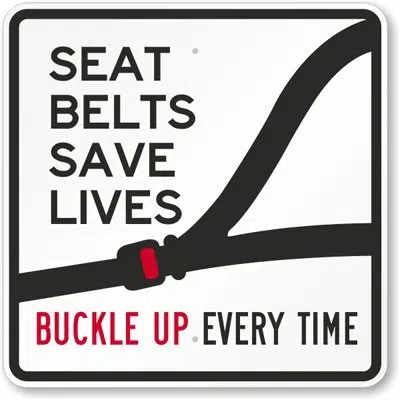 The annual Fall Seat Belt Campaign is back. Police Officers across Ontario are conducting increased seat belt checks. However, this campaign goes far beyond that. Another important component of the campaign is education. Ontario Police are educating the importance of wearing a seat belt, how to properly wear a seat belt, the laws around wearing a seat belt and will provide statistics of how wearing a seat belt can save your life. Many of this information can be found through their social media platforms. Another thing they do is partner with other agencies such as hospitals, who similarly witness the same negative impacts of not wearing a seat belt.
There are many contributing factors that may lead to a car crash, especially a fatal one. Police Officers have narrowed down "The Big Four" contributing driving factors which lead to death. The first one is impaired driving. Although impaired driving is never good, the following factor is even worse. Distracted driving has been getting so bad that Sgt. Ken Johnston says "The increase in number of fatalities we get from distracted driving, it is now double what we get from impaired driving". It's quite scary to think that a sober but yet distracted driver, can do more damage than someone who is under the influence of drugs or alcohol. Improper wear of a seat belt or not wearing one at all is another factor that leads to fatal car crashes. Many people still suffer serious injuries or even death even though they are wearing a seat belt because they have adjusted it out of the standard safety position. Speeding or aggressive driving is the last factor and is often combined with one or all of the above factors.
A recent media release from the Highway Safety Division has shown that there have been 34 road fatalities so far this year, in which the victims were not wearing a seat belt. That is an increase from the 30 we had seen previously at the same time last year. By the end of 2017, the total was 49. This seems to be a pattern not only in deaths but also in car crash injuries. Sgt. Johnston tells us that they keep in close touch with trauma centres and the number of severe injuries continues to increase because of the lack of seat belt use. A recent United Nations Road Safety report states that 1.2 million people are killed globally each year as a result of a car crash. Additionally, 20 to 50 million are injured. Researchers indicate that the road collision casualties will likely increase by as much as 50 percent in the next 20 years, especially in low and middle-income countries. If such a thing were to happen, it would make traffic deaths the third major cause of death.
In 1976, Ontario became the first province in Canada to introduce seat belt laws. Back then, only 17 percent of Canadians wore seatbelts, which is a drastic change into the 96 percent we see today.
As a driver, you are responsible for anybody not wearing a seat belt under the age of 16. However, if you are a passenger 16 years of age and older you are then responsible for your own seat belt use and may be subject to a $240 fine if you're not wearing one. These fines will remain on your licence record and may impact your car insurance as well. If you're not a licenced driver at the time of the fine, it will carry over until you get your licence and will impact your insurance at that point.
At just 55 kilometers per hour, a person not wearing a seat belt in a crash has the same impact experience as someone falling from a three-storey building. If you are to increase those speeds to 80 kilometers per hour, then the unbelted passengers will leap forward with a force of about 3,000 pounds.
People often wonder why bus passengers are not required to wear seatbelts. The truth is only the bus driver is required to wear a seat belt. After the Humboldt Broncos tragic accident on April 6, 2018, Saskatchewan is looking into mandating this. Transport Canada says that you are safer on a bus than you are in a vehicle for a number of reasons. One reason is that buses are driven by professional and skilled drivers. Another reason is that you sit higher than most other vehicles and therefore are less likely to get injured. In a 10 year span from 2003 to 2012, Transport Canada noted that of the nearly 3,700 crash-related injuries in Canada on school buses, only 11 of those were deaths. They say that high back seats that are padded and closely spaced together protects passengers in a crash. Although buses are deemed safer than regular vehicles, commuting for longer distances always poses a risk because the velocity is increased when you travel on a highway. As of 2016, new tour buses and ones that travel between cities require seatbelts under federal law in the United States. However, the rule doesn't apply to city transit buses or school buses. Hopefully, the tragedy of the Humboldt Broncos can spark the same message to all of Canada.
Many people feel that an airbag alone will save their life if they are in a collision. Constable Max Gomez says, "The airbag is only supplemental to people wearing a seat belt. The airbag won't save your life if you're involved in a collision. However, the airbag in conjunction with a properly worn seatbelt can save your life." Constable Gomez says we need to speak up when we notice people who are not wearing a seat belt. This is not only for their safety but for your own safety. When somebody is not wearing a seat belt and the vehicle experiences a crash, that person can be propelled from their seat and may, in fact, end up severely injuring or killing another passenger, who is wearing their seat belt. Constable Gomez adds that you may regret not having a seat belt conversation if you are ever involved in a collision.
According to Transport Canada, seat belts save roughly 1,000 lives a year just in Canada alone. We need to keep in mind that refraining the use of a seat belt could be life altering for not just yourself, but your friends, family members, and every passenger in the vehicle. Many more lives could be saved if everyone buckles up for every trip.