More and more chain restaurants are revamping their menus to include "gluten friendly",  "gluten wise", or "gluten reduced" meals, however these options can be problematic for Celiacs, as there is no gluten free certification that is guaranteed. 
Helen Abrams, Registered Dietitian at University Hospital says most restaurants just don't want to take on the liability. "Chain restaurants have such a high employee turn over, so it's hard to ensure that every employee knows the seriousness of cross-contamination and the effects of gluten on Celiacs. Most people don't realize how small cross-contamination can be. It can be as simple as double dipping, using the same utensils for all meals, or even using a pan for gluten free pizza that has previously been used for gluten-containing pizza. The slip ups can be so small, but some of my Celiac patients say that they can feel the side-effects of cross-contamination for days. With that being said, it is easy for cross-contamination to come into place and I don't blame large restaurants for not wanting to take on the liability. I feel that it would be impossible to give that guarantee."
Julie Kortekaas, co-owner of Rebel Remedy in London, offers many gluten free options on her menu and is trusted by local Celiacs even though she also sells non-gluten free items and does not have a gluten free certification. "I think the difference between Rebel Remedy and large chain-restaurants is that we know exactly what is in our food as most of it is locally sourced and made in-house. Our kitchen is kept very clean and organized, and if someone wants me to prepare a gluten-free meal, I know exactly what to exclude, and I know what I can add to the meal so that they aren't missing out on anything. We don't have many employees, so it's easy to train people up to a high standard, and to ensure that our employees at least understand where the allergens are and how to accommodate those with allergies, food-sensitivities,  or Celiac. But I think the key lies in a clean, organized kitchen and knowledgeable employees."
In regards to eating out, Kortekaas says no matter where you go you should always thoroughly explain to your server that you have an allergy, and the seriousness of cross-contamination. "Some servers may assume that it is a preference if you don't tell them otherwise. Your first line of defence is to advocate for yourself. You should not feel intimidated or embarrassed to communicate your allergies because honestly, it is very popular to have an allergy or food sensitivity nowadays."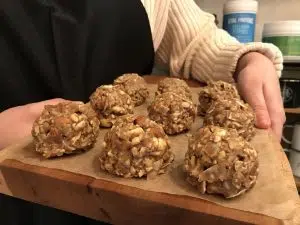 Food allergies and Celiac Disease are becoming more and more prevalent, and as a result, more gluten free options are popping up in London. Sue Helm, owner of Helm Baked started her company because she saw a demand "I have four children, three are Celiac and one is gluten-intolerant. They grew up with my baking, and after being diagnosed, they didn't have the options that they had before and they really missed my baking, so I started trying to convert my old recipes into gluten free ones,  and I didn't stop until they were perfect. My kids loved it, so I started selling the baked goods that I made in my house, and people loved them! It has been really well-received in London, and word of mouth has made my business really take off. My gluten free baked goods are now wholesaled to many coffee shops in London like Locomotive, and my dream one day is to own a storefront."  Helm's children are all involved in the business and Sue's son Jake agrees that he didn't have many great options before Helm Baked. "It got to the point that I just stopped buying bread, and other gluten free options from the grocery store. They are typically double the price of non-gluten free, they are half the size, hard and dry. I just gave up buying them, but then when my mom started baking her own, I was so happy. Many customers tell us that the baked goods that we sell are better than any gluten alternative that they have tried in the past. I'm glad that my mom turned this into a business because now other people can have the great options that I have."
When buying gluten free, always disclose any dietary restrictions or allergies and ensure that the seller is well-aware of what the allergy is and how it can be found in food products. Even without a certification, restaurants have the ability to create safe dishes. It just requires diligence, cleanliness, and communication.