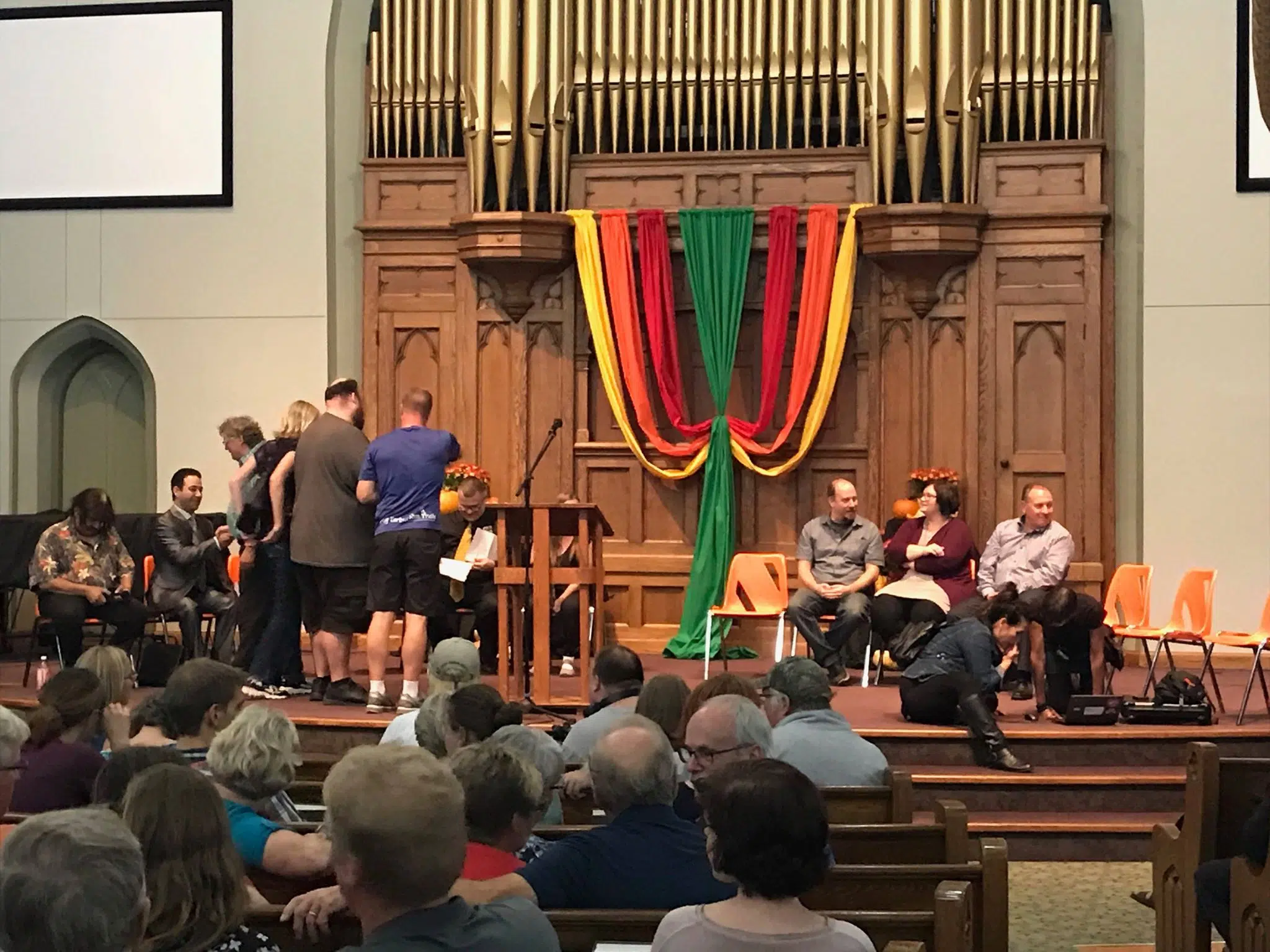 Over 77 000 people in London are now living in poverty. Mayor hopefuls gathered at Sanctuary London to voice their plan for poverty and homelessness once elected. A large crowd of low income Londoners attended to hear just how they will be helped when a new mayor is in office.
Ten candidates attended but all eyes were on the top four contenders in the running for mayor:
Ed Holder
Paul Paolatto
Tanya Park
Paul Cheng
Ed Holder
Ed Holder discussed ways to change the poverty crisis by pursuing provincial and federal funding once he is elected. He also says that living through poverty himself helps him to engage and tackle the crisis easier.
"At one point we had to sell our house to pay the medical bills. My mom had cancer. She survived for several decades, but we understood what it's like to have a home and then lose it."
Reinforced personal commitment to solving this crisis comes from the daily reminder of what he went through as a child.
Paul Paolatto
Paolatto was the last of ten mayoral candidates to present their future plan for London's poverty crisis, but ultimately was the most applauded. He talked about change needing to come now when the crisis needs it the most. He has a plan to solve the crisis and has already been in touch with the Federals and Provincials for funding.
"I believe I have found the funds to do it. In the next four years I am going to bust a gut to get the housing problem in this city fixed."
Hunger, homelessness, addiction, and mental health were all subjects that Paolatto touched on during his speech to the audience.
Tanya Park
Park did not have much to say in her speech at the meeting to discuss poverty in the London community. Each candidate gets a total of five minutes to speak their plan of attack to end homelessness in the city but she did not use her whole time.
"I'm not going to use my whole time here but anyone who would like to meet me after can come talk to me and I can answer any of your questions."
She does have a plan and says once she is elected mayor, those plans will become a reality.
"Making sure plans don't sit on a shelf and collect dust. I will create outcomes and opportunities for the people in our city because everyone is counting on that. Everyone deserves a fair shake in this world."
Park is the only candidate in the race that is currently a councillor for the city of London.
Paul Cheng
Cheng is upset with the current poverty situation in London and is ready for change. As his campaign motto says, "Cheng for Change," he is looking to make positive action as soon as he sits in the mayors chair.
"There's only talk of how bad we are and how bad we are and that we must do more, but there's never any action," he says. "I say enough talk. Get an honest guy in office, we need change."
Also proposed by Cheng was to reach out to the Federal and Provincial government for funding to aid in the poverty crisis.
Upcoming Election
The upcoming election is fast approaching. October 22 will be the date when the long awaited voting results will be released. Candidates hope that their plan proposed at the meeting was enough to give them the upper hand in the final few weeks of election campaigning and voting.