The TAP Centre for Creativity is helping Londoners tap into their creativity. Located in the heart of London, the centre supports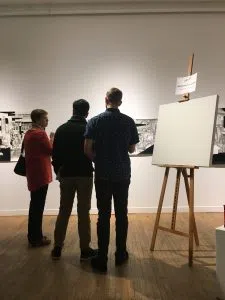 local artists of various talents such as theatre, visual and performance. The centre offers an opportunity for Londoners to interact with local artists. Their residence artists work upstairs and create the works that are featured in the gallery. Sid Wilson, the President of TAP's Board of Directors, says that showcasing London's talent is important for the community. The centre held a fundraiser called Artrageous. The centre has held the fundraiser for many years, however this year, they decided to add a twist.
TAP volunteer artists collaborated with teams from various organisations such as TD Canada Trust, Research Western, the TAP Board and RBC. The groups participated in a contest with the theme 'Local Landmark'. Together they were tasked with the challenge of creating a painting in 90 minutes that Londoners could vote on. Along with the contest, Shut The Front Door featured live improv.
TAP artist Dan Tamborro worked with Research Western in a team called Redheaded Stepchild. It is Tamborro's third event with TAP and he artists deserve more chances to show off their hard work.
"That's the one thing with artists, they have to constantly market their work. You just got to do it."
Wilson continues by stating that helping artists who wouldn't otherwise have an outlet is the most important aspect at TAP.
Artists who were fresh out of their education needed a place to land to spread their wings, learn more about their craft and continue to grow what they are doing. TAP was founded as an organisation to help those emerging artists".
The centre is also considered a charity, and all proceeds from the event will go towards funding emerging artists in London.