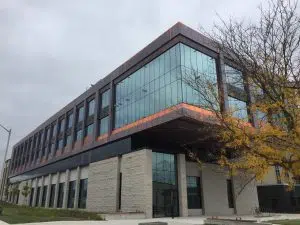 Western university held the grand opening for its newest building on Friday. The massive Amit Chakma engineering building is the latest addition to the multi million dollar engineering complex at Western University. The sleek glass exterior and modern architecture is mixed with the familiar stone and mortar foundation makes the building a centerpiece of the university.
The new building formerly the three C++ building will be a center to materialize the dream projects of its students. The grand over 100 thousand square foot building will Feature upgraded power sources and work spaces.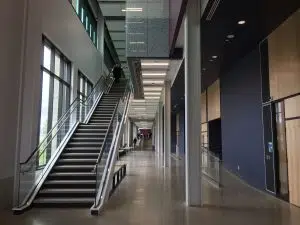 The building didn't come cheap!
Over 200 million dollars was spent by both the federal government and western university yet took only two years to build. The speed at which the project took shape was underscored by President Chakma at the unveiling where he called the opening of the new building "a great day for Western University and Canada as well."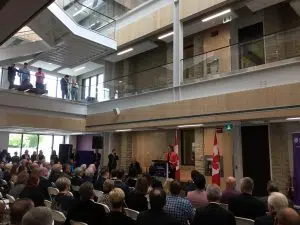 Western responded quickly to a government offer and gathered student input, as quickly as it could.
This meant that student governance would have to work, and work effectively. Within three days 50% of the engineer student body was surveyed on what they would want to see in a new facility.
Previously, students were crammed into small rooms working on bulky power hungry projects like automated robots and hovercrafts. Due to space restrictions students in lower years were left without the opportunity to apply their learning and research and valuable experience was left until later years. This simply meant that engineers coming out of western were not getting the maximum amount of experience in their programs.
Local federal Mp Peter Fragiskatos would say that engineers "build the world we live in." For students to not get this experience it would mean that solutions to problems wouldn't be found. Chakma was adamant during his speech that this also affects London our province and nation.
So what's going on inside this new building?
For starters Western University does research on lightweight construction materials. To fabricate or make an actual product out of this research as Chakma says "creates jobs." To Chakma and the politicians who spoke at the event this is one of the most important features of this building.
In an interview after the unveiling of the buildings name President Chakma would say that "Canadian industry needs to be more competitive." Advanced production techniques and producing higher quality materials and products is a lagging part of the Canadian economy. With the construction of this new building western hopes to educate more engineers and attract international talent. Talent that will hopefully stay in Canada and solve Canadian problems.