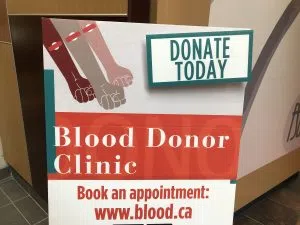 Benefits
While blood being donated is favorable for those in need,  professionals express that donating blood has advantages for the donor.  Kristen Ungar, territory manager for London Donor Clinic says "the benefits to giving blood are making sure it's there for you, or your family if you need it" but the ultimate reason is to have blood in local hospitals.
Identifying unknown health problems
Donating blood provides crucial necessities for the local hospitals.
Everyone who gives blood is required to complete a physical examination before eligible to give blood. Thus, there are people who get diagnosed with previous unidentified health concerns as a result from the blood donation process.
The possible health concerns include blood pressure troubles or low blood counts. Although a low blood count would prevent someone from being eligible to donate, uncovering these details could aid someone to pursue more information regarding their health.
Feeling warmhearted
The decision to donate blood could save a life or several. Per one session of donating blood, it can result in saving up to three people who need blood to live.
Blood is always needed for accident victims, cancer and surgery patients. Having knowledge on making a difference to those suffering can make a person feel good about themselves.