There are 70 new Canadians in London.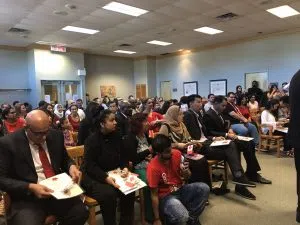 As part of a celebration for Citizenship Week, London welcomed 70 new Canadians at London's Immigration, Refugees and Citizenship Canada office. It was an emotional day as they recited the Oath of Allegiance.
London MP Kate Young attended the ceremony. The ceremony reminded her of her own family.
" My dad immigrated when he was in his late twenties from Scotland. Then he met my mother and they started a family… I am so glad my father chose Canada and that we had a wonderful life." – MP Kate Young
The start of a Canadian family is exactly what happened for one family in particular. Paula and Fabio came from Brazil to start a family. Their son was born in Canada making him a Canadian citizen. It was important for them to start their family in Canada.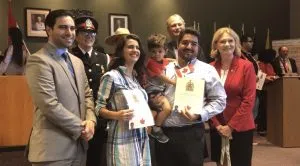 "We wanted to have a better life for our kid. Brazil is not as safe as it was before when we were kids, so we decided to move to a better and safer place." – Fabio
They were unable to find words to express how happy they felt to officially belong to Canada.
"We had many sacrifices. We left our family in Brazil, and we miss them a lot but we are sure for us it was the best to come to Canada and make our lives here. And we keep our roots, and we keep our traditions from Brazil." – Paula
The ceremony ended with the singing of the national anthem. Followed by the 70 new and proud Canadians saying "I am Canadian" for the first time.
"I think there were a number of people with a tear in their eye. They have worked really hard to become Canadian citizens, and they bring to this country great things. And I think we are all the better for it." – MP Kate Young