In case you haven't heard already- weed is now legal in Canada.
For those of us who want to order our weed online, the postal service has increased the security of these packages by including an age restricted seal on them.
Postal workers who deliver cannabis, or related paraphernalia, will now be required to ID the recipients of the package, on top of the signature. Those who obviously look old enough will not be required to show ID. Additionally, no one else in the house is allowed to sign for the package if the recipient is away.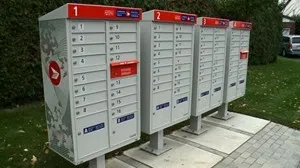 President of the Canadian Union of Postal Workers Karen Finley-Russell says that to keep the security tight on these packages, any package that isn't claimed on the initial delivery must be taken back to a store.
"These packages will be whats called 'carded', and taken back where the person can then pick them up at the nearest retail location."
Russell explains that this system isn't new. The Canadian Postal service has been using this same system for alcohol for a long time.
Canada Post is currently the only company that will deliver products ordered from online cannabis retailers. Russell says that a delay on these deliveries could be expected in the coming days due to the looming strike of postal workers across the country.