The Western Mustangs are victorious yet again as they beat the Laurier Golden Hawks 46-13 in today's homecoming game.  Fans, family, alumni, and friends turned out in the pouring rain to support the players, filling the bleachers with wite and purple pride.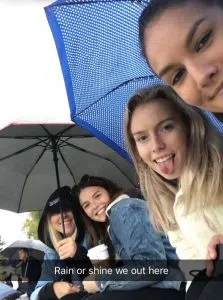 Fraser Sopik is a fourth-year linebacker who had three solo tackles and five assisted tackles in today's game helping lead them to their eighth win of the season. This means the Mustangs finished the regular season with a perfect 8-0 record remaining at the top of the OUA standings heading into the postseason. Today's game also knocked the Laurier Golden Hawks out of playoff contention and ended their season with a 4-4 record.
Chris Merchant–the Mustangs quarterback–lead the offense in the game throwing for 251 passing yards and two rushing touchdowns. He also said to the media that feeling like champions is an amazing feeling but the team knows they have much more to accomplish.
Although the turn out for the actual homecoming may be nothing in comparison to the fake homecoming in September, western students are still proud of the Mustangs. Londoners and students can now support the players in their much-deserved break.
Western Mustangs are VICTORIOUS! The final score for the homecoming game against the Laurier Golden Hawks was 46-13! #purplepride #LdnOnt #Mustangs

— Karling Donoghue (@KarlingXFMNews) October 21, 2018