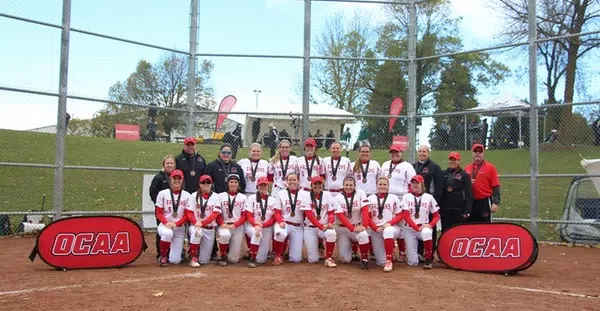 The Fanshawe Falcons softball team was in action over the weekend. The OCAA Softball Championships were hosted in Kitchener, ON. The Falcons suffered a heart wrenching 15-5 loss to the St. Clair Saints in the semi finals to capture the bronze medal.
Earlier in the tournament the Falcons took on the Saints in quarter final action where they were faced with tough pitching as Sara Stiller pitched a complete game only giving up one earned run. Kim Moroun hit a walk off single to win the game 5-4. Fanshawe's player of the game was Nichole Erb who pitched 3.2 innings with 5 strikeouts.
The Falcons took down the Humber Hawks 10-2 to advance to the semi finals. Player of the game was Emily Davis who hit 3 for 4 with 3 RBI's and 2 runs. The team would see a familiar face in the semi finals, the St. Clair Saints. St. Clair dominated the game to a 15-5 end score. Jacey Lochert was named a tournament All-Star. Lochert batted .545 driving in 3 runs.
Falcons 3rd baseman, Madison Kichinko had nothing but praise for her teams All-Star.
"[Jacey] is definitely a leader on this team that I was glad to learn from, She taught the girls so many lessons on and off the field."