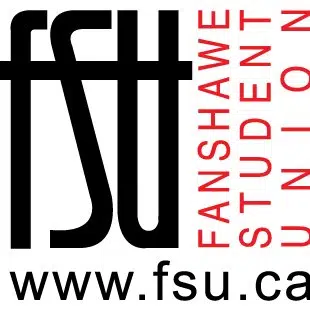 Fanshawe's Student Union just got some new Directors!
Their role is to be involved in the policy-making of the Student Union. Each Director will be responsible for a different school or program that makes up the college. This will allow students to recognize whom to voice their concerns to, in all aspects of the college. Since the School of Business at Fanshawe is so abundant, newly elected Director Jaylan Harvie will take on those duties. Being a Business student himself, Harvie is familiar with the territory. Harvie says dividing up the work ensures FSU makes good decisions for students. Harvie says dividing the Directors to specific schools, will helps The Student Council make successful decisions for students in the college. Harvie was the leading vote-getter with 915 votes.
Newly elected FSU Director and Protection Security Investigation(PSI) student Natassha Ruiz says there are two main responsibilities that FSU Directors have. "The first responsibility is meeting with class reps. Basically, the class reps come in for a meeting and they can bring up issues and we can help them resolve them. The other thing we do is we have a board meeting twice a month where we bring up topics. Directors bring up reports and if there's a vote needed the Directors can step in."
Jaylan Harvie said he ran for FSU Director because "Not enough students are being heard."
While Ruiz says "I like advocating for students. I feel that you shouldn't have to jump over barriers in order to get the proper education you need."
Harvie says he feels the college means well but says there are certain areas that only students can bring forward with their experience. One the changes he'd like to see is expanding the use of the flex plan and what students can use their student cards for. One thing Harvie wants to do is make student cards useable off campus so students can buy groceries or expand their food choices. Harvie already has some retailers who are open to the idea of being part of the flex plan, such as Food Basics. Harvie feels since it is the student's money, they should have more of a choice in what they get. A topic of discussion is a lack of healthy food and food restrictions such as vegetarian, vegan and halal. Harvie says for people with these food restrictions, it makes it next to impossible for them to consume any of the food services offered. Harvie also feels that expanding the flex plan will allow young students to transition into adulthood better. "What are you going to do when you come out of college and you don't know how to cook for yourself", says Harvie. Another unfortunate thing about the meal plan is that any money left over on your card does not get rolled over and is gone the following study year. Yet, students will still have to pay this money back regardless of use. Harvie says he knows expanding the meal plan is a realistic goal because colleges and universities all across Ontario have already implemented it.
Another big change Harvie wants to see is the use of a daycare centre. Whether it be a dedicated centre for students and faculty or at one at a discounted price. For those who believe this is a far-fetched idea, Harvie says that in Peterborough, there's a high school that has been operating a daycare in their school for 17 years and counting. "So why can't a large college do it?" questions Harvie.  He feels there is a big opportunity to be had for child care services. He also feels it would be wise for new start-up companies to invest their partnership with schools because of the excessive amount of need. He goes on to say that this idea could better our community as a result of more people attending school. So many people would like to go to school but feel they are restricted by the lack of daycare options available to them.
Ruiz says she wants to see the Safe Walk Program that is already in place, make a change for the better. She would like to see people get walked a bit further than they already do. Additionally, she'd like to see the school use Police Foundation students and PSI students for these walks. She feels this would give those students some much-needed experience.
Ruiz is also a social change specialist hired on by Leave the Pack Behind which is a stop smoking program. It is run by Brock University and they help students quit smoking by offering free services. One of their plans was to make Fanshawe smoke free in 2019 or 2020 but then the school decided rather abruptly that they would instead implement this on November 1st of this year. This was a shock to both Harvie and Ruiz who were both unaware of it, until a week prior to it being announced.  Ruiz says she's already heard a few talks of petitions and suggestions of making breaks longer. Whereas, Harvie believes the issue could be resolved if they were to just reduce the smoking section, as appose to removing them completely.
Change is often something that many people dream of but for this year's FSU Directors they are looking to make it a reality.