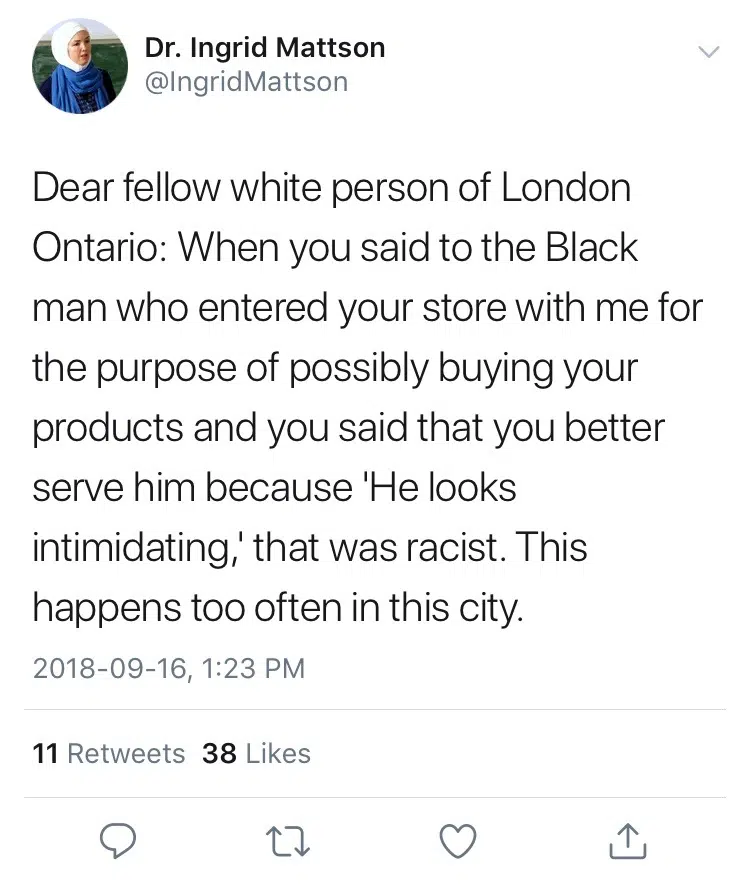 It's a term you've probably heard before, "white privilege", but what is it?
Former Western University Sociology Professor, Anton Allahar, says an essay by Peggy McIntosh sums it up nicely.
"She describes white privilege as an invisible backpack that white people carry along with them. It's invisible, but it's there. Inside are all kinds of goodies, like a get out of jail free card, you don't have hassles with police, when you're browse a store they don't fear you're about to shoplift- things like that."
He says that until you step out of your white privilege, you never notice how much of it you have.
As of 2016, 20% of Londoners identify as a visible minority. While there are some fighting to help these people reach equality, Allahar says they can never fully commit.
"They're prepared to help those who are not white and give them a hand up. But at the same time, they are not willing to give up any of their privileges to realize that."
Ingrid Mattson is the London and Windsor Community Chair in Islamic Studies at Huron University College at Western University.
She credits her invisible backpack with helping people overlooking her hijab.
"I'm a white person. At the same time because I wear a scarf, and I am a Muslim, I can be racialized. But, there really Is a different reaction when I'm with my black friends which made me understand that whiteness is so strong, that in a way it washes out my Muslim-ness."
She was at a local furniture store with friends visiting from out of town, when an employee displayed blatant bias towards her guests.
WATCH: Ingrid Mattson describes a racist encounter she had in downtown London
"We approached the desk, and then man behind the counter looked at me, and then he looked at my friend, and he asked, 'Is he with you?', and I said yes, and he said, 'Oh good because I was going to serve him first because he looks intimidating.'"
Mattson says there was nothing intimidating about her friend, simply that he was a black man. She believes this type of speech towards people of colour happens far too often.
She tweeted her experience and it seems her thoughts on the situation are shared by the 38-people who liked her tweet.
Mattson says she wishes she said something to the store clerk, but was taken aback by the comment.
Moving forward from the experience, she says she thinks people should be open to discussion on the topic of racism to avoid being a silent bystander.
"An exercise I encourage in my classroom, is role playing. I might go through that scenario I was in, and try to respond different ways. The more that you practice being in those awkward situations and responding to it in a way that's more effective at changing the dynamic of the situation, then you'll be prepared because we're never expecting these things to happen."
Mattson adds that when you're a bystander to a situation like she was in, to take the feelings of the other person into consideration.
"As an ally, you don't want to take away a person's agency anymore that it already has been."
While Allahar believes that white people are not willing to give up their privileges to help the likes of others, people like Ingrid Mattson are helping to prove him wrong.