Learning new ways to sort through waste was a major topic for this years Waste Reduction Week.
To help sort through the waste, Fanshawe invited Tracy Stephenson from Miller Waste Systems. Stephenson helped Fanshawe's Sustainability team know what waste can be recycled.
"Just cause it's made out of plastic doesn't mean it's recyclable. Your phone case and phone charger, they're not recyclable."
Another plastic that can't be recycled is the plastic packaging that berries and other produce come in. Which is why Fanshawe is adding another "R" to the trio, reduce, reuse, and recycle.
They're adding refuse. This means refusing to purchase items that come in plastic packaging that cannot be recycled. Fanshawe's Sustainability Team offers some tips on how to refuse packaging that cannot be recycled.
Use a reusable travel mug rather than a disposable coffee cup every time you order coffee.
Bring reusable utensils so you're not using a plastic utensil every time you eat out.
Use a reusable straw when purchasing drinks.
There are many more ways that you can change your everyday habits. Even the smallest changes to your lifestyle can make a difference in the world.
Michelle Cong is the Sustainability Coordinator at Fanshawe, she says they want to reach everyone in the Fanshawe community.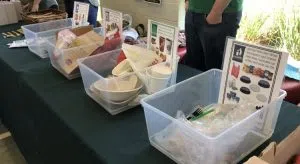 "We can really reduce greenhouse gas emissions, reduce our carbon footprint, for the entire college. So it is very important for Fanshawe citizens to sort their waste properly so that we can reduce as much as possible."
Read the signs on the disposal bins to find out what waste product goes in which bin.