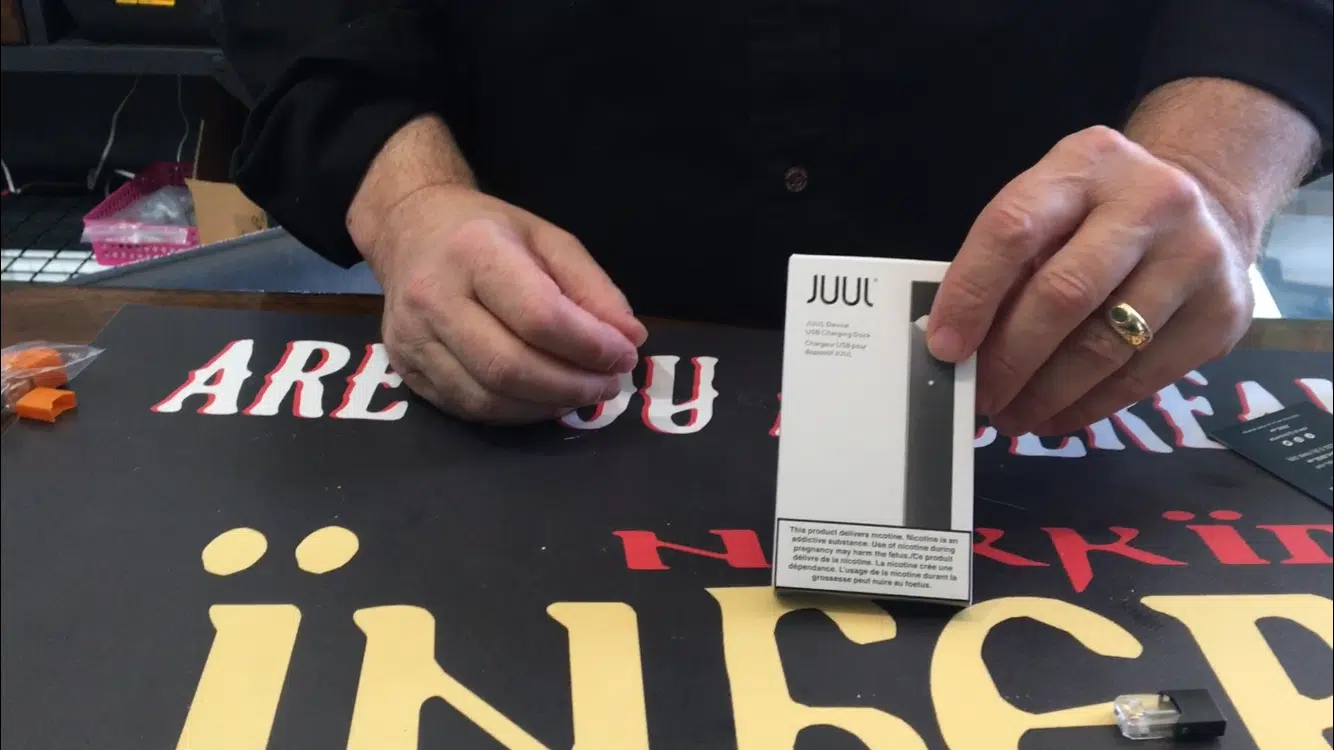 Non-smokers may not know what a Juul is or it's purpose but, Students seem to know what it is and they seem to use it in school. A Juul is a smaller version of a vape (vaporiser), a vape has become very popular as of late and they do not seem to be going away anytime soon. The Juul is the latest edition of a vape that has made its way to the vape shop shelves. Bill Thibodeau from Nekkid Monk vape shop says, 
" The Juul is good for a person who has had a difficult time quitting smoking, it's a bit thinner on the cloud but it is going to give you that nicotine hit a little bit quicker. It's small, it's not as expensive when it comes to gear, and that's why it has become popular as of late."
That's the reason why it has been more popular as of late for people who have been trying to quit smoking. It's because the buzz you get is very similar to the one you get from a cigarette but, it does not put you at risk like the cigarette. On the other hand, it has been popular for some middle school and high school students but, it is not popular because the students are trying to quit smoking. Maybe some are but, there are students who have never smoked a cigarette before and are trying to vape and it is causing some problems when it comes to school authorities. Roslyn Gauthier is a principal for NCDSB (North Eastern Catholic District School Board) and here are some issues she and her staff have had to deal with.
"A few days ago we received a bus report, that a grade 8 student had and was vaping on the bus. It's in our school code of conduct that parents and students sign at the beginning of the year and, it does mention the non drinking, smoking, and vaping policy. Many of our high schools have had issues with them as well, where they had to remove the bathroom door on the boys washroom so they would not vape while going to the washroom."
Although it is not only the Juul that makes an appearance, it does seem to be the most common vape to be seen on school property and with students. Roslyn also had this to add.
"They definitely do it because they think it's cool and I think it also has something to do with peer pressure. They probably think oh well if he has a vape I want a vape and I think that's what makes the issue so big."
This will most likely continue to be an issue for the next little bit but, if the teachers/principals keep trying to enforce the rules the message might get to the students. At the end of the day, the problem seems to be the use of the Juul/vapes in school. Could the problem be that people that are of age buy these for minors..? 
Here's a video of Bill Thibodeau from Nekkid Monk Vape Shop showing you what a Juul looks like