As the road work in the Dundas area continues to block off streets, London drivers are being deterred from venturing into the downtown core. From being unable to easily access shops and restaurants to not wanting to be stuck in traffic, local businesses are taking a hit.
Mark Kitching, Owner of Waldo's on King believes that the negative impact construction has made has been extremely apparent. "We've definitely noticed a difference, especially in the beginning of the week. The Monday, Tuesday, Wednesdays have been very quiet, and I understand that people don't want to come down here because from day to day they never know which road is open and which road is closed."
Other business owners in the Covent Garden Market have noticed a difference too. "The traffic always picks up when there is an event at the Budweiser Gardens, and although no one going to see a concert is coming in here to buy lettuce, we invite them to London in hopes that they come back and make a future purchase. The traffic picks up when something over there happens, but the traffic from the construction has already made it nearly impossible to leave the underground parking. When something is going on over there… good luck getting out of here," says a vendor that would like to be named anonymous.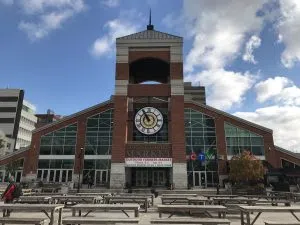 Mark Kitching can't help but agree that the traffic has made things much more difficult. "It's horrendous. From about 4:15 until about 5:30/6:00 everyday the traffic backs right up from Richmond all the way back to Ridout and all the way around the corner. It's terrible."
Kitching says that although construction is sometimes necessary, it would be a great improvement if the City of London could communicate plans and updates to businesses that are impacted by construction. "It's just unfortunate that small businesses are never really informed of when the roads are closed, or when they're going to be open again. They just come and do the work and you have to live with it. You have to get through it." Kitching adds that if businesses were not prepared for loss, it could be a breaking point for them and London could lose as a whole.
"I think small businesses are the backbone of any city and of the whole country. I mean, that's what we do. We open our own businesses, we put our own money out there, we risk it, we employ people… we generate tax revenue. So small businesses are really important."
Currently the City of London is not offering compensation to business affected by the downtown construction.