Thursday, October 20 the London Police Service started investigating a second sexual assault where an unidentified male assaulted a female inside a bus shelter.
In a bus shelter near the intersection of Commissioners Road East and Deveron Crescent a 26 year old female was assaulted around 10pm while waiting for an LTC bus.
The suspect is described as: male, black, 30 years of age and about 6'2″. He has a skinny build and was wearing all dark clothing which included a blue hooded sweatshirt with the hood up and there was something covering his face.
The male suspect had approached the bus shelter and began to pace back and forth. He entered the bus shelter, assaulted the female and then fled on foot.
On October 7th a similar incident took place.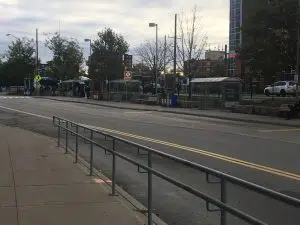 At around 7pm while waiting for an LTC bus inside a bus shelter and the intersection of Oxford Street West just east of Proudfoot Lane a seventeen year old female was sexually assaulted by an unidentified male.
The male suspect approached the bus shelter, entered the shelter, assaulted the female and then fled on foot.
The suspect is described as: male, black, between the age of 19-20 years and about 5'8″. He has a slim to medium build, small eyes, short hair and was clean shaven. He was wearing a black t-shirt, white athletic shorts with a possible red coloured design along the sides and white sneakers. The suspect also had a purple "Western" hooded sweatshirt with the Mustang logo along the sleeve. He was seen putting that sweatshirt won with the hood up while running from the scene possibly carrying a small bag.
Neither victim had physical injuries. London police were on scene after both incidents but were not able to find the suspect.
"I'm not sure if theirs anything related between the two. I understand the situations are similar and suspect description are similar also but I am not sure if they have been linked at all."
Constable Josh Kenny comments.
At this time the incidents have not be connected but the investigation is on going.
London police have put out some safety tips to people who use bus shelters in the city;
-Be aware of your surroundings, especially when alone and within a bus shelter
-Always be alert and cautious if a stranger encroaches upon your personal space
-Whenever possible travel with a person you trust, especially in the evening
London police are still investigating, if you have any information contact the police or crime stoppers.
Sexual Assault Investigation-Looking for assistance from the public. Click Link for full release: https://t.co/cH38IBtVdL pic.twitter.com/5D7XIZJ0O8

— London Police ON (@lpsmediaoffice) October 20, 2018