As the years progress, some aspects of Halloween seem to stick and others seem to change.  The trick or treating days have seemed to die down, as the houses that used to see 300 kids are now only seeing 30.
But what hasn't changed is that people loved to be scared in the month of October.  The place for Londoners to go to get their scare on is Kustermans Berry Farm, known as Kustermans After Dark, from 7pm on.
One of the major aspects of Halloween is telling scary stories.  Kustermans staff member Jody Clinton shares the story of Anna.  Anna lived in the barn on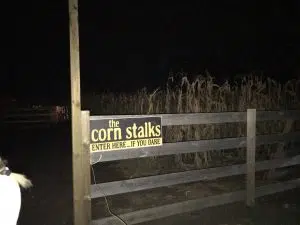 Kustermans property, where her dad Walt was a very rude man.  Anna would escape the barn and find Jody (they were childhood best friends) where they would head to the corn maze to play.  Scary, scary events would go down in the corn and now Kustermans invites the public in to relive the experience.
It is has been told that not everyone can be scared, but everyone can be startled.  This is something that Kustermans plays off of and a challenge that they face.  Manager Renne Pearson says that it is difficult when deciding who plays what role, and how they will scare each individual because not everyone reacts the same to everything. "We plan well in advance, and each night we tweak the maze to make improvements, so that we can deliver a slightly different thrill each night," adds Pearson.
If you are looking to get scared this halloween season be sure to head over to Kustermans After Dark.