Amidst a tragedy a new organization came together.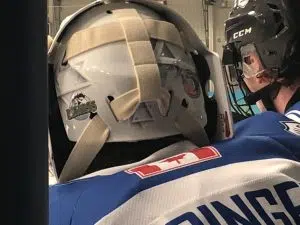 Stu Middleton is Co-founder of Hockey Gives Blood. The non-profitorganization is working with Canadian Blood Services to reach out to hockey teams across Canada to promote blood donations. The inspiration to create Hockey Gives Blood came from Middleton's personal tragedy and the Humboldt Broncos tragedy.
"Almost twenty years ago my dad was killed in a traffic accident travelling to one of my hockey games. A semi-truck came around the corner on the wrong side of the road and he just happened to be in the wrong place at the wrong time.  Out of his death I found no difference was ever made. When the Humboldt Broncos tragedy happened I just thought a difference has to come from this" said Stu Middleton
Middleton says he hopes that Hockey Gives Blood will inspire people to be donors for life. Only in its first year, Hockey Gives Blood is making its way across the country.
Hockey Gives Blood has reached a team here in London. The London Nationals are donating blood through Canadian Blood Services and Hockey Gives Blood.
"Blood saves lives. It's just as simple as that. Anything we can do to make a big impact in our community, across Canada we're always down for." said Whitney Eansor the Director of Sales and Marketing for the London Nationals.
The team and coaches are donating blood, and are inviting fans, volunteers and anyone who would like to join their donation team.
Zach Springer is goalie for the London Nationals. He will be donating blood with his team.
"I think giving blood no matter what the meaning behind it, is something that's important and it saves lives. With this organization it adds a special side note to it." said Zach Springer
Springer said the Humboldt Broncos tragedy hit close to home, and he still wears a Humboldt Broncos sticker on the back of his helmet. The sticker was something his team put on their helmets after the tragedy, and Springer says it didn't feel right taking it off.
The London Nationals will be donating blood on November 5th at Canadian Blood Services on Wharncliffe road.