Hundreds of people gathered in Ottawa to protest a little girl's killer be sent back to maximum security prison.
Terri-Lynne McClintic was convicted of killing eight-year-old Tori Stafford in 2009 and was given life sentence. In 2014, she was downgraded to medium security prison until recently being transferred into Okimaw Ochi healing lodge in Saskatchewan. The healing lodge has full amenities and gives McClintic decent necessities of life.
This sparked hatred against the government and the way prison sentences work in Canada. A protest was formed by Tori's father Rodney Stafford. People from across the country came in support of him and his daughter. He reflected on how much it means to have hundreds of people stand as one to get a message across to the government.
"It just goes to show a lot of people can sympathize because we have feelings, we have heart. It's about our children and we all wanna do what we can to help change this."
Stafford was surprised by the amount of support he has gotten since the transfer of McClintic to the healing lodge took place.
"Very surprised. Almost ten years later still having basically the same amount of support if not more than I had ten years ago. It feels really good to have this many people with you."
When McClintic was transferred, Stafford as the father of his little girl who was killed took it as a slap to the face and that justice has not been served.
"To me it is not justice being served. Justice being served would be Terri-Lynne serving max for the length of time she was given. At least until her parole date and then if that be the case, then go through the steps but, she hasn't even made it ten years into a twenty-five year sentence and this is already going on. We need to change it because there are other families going through the same thing. Who's to say somebody else isn't going to go through this tomorrow," he said.
Protesters Rally Together 
People wore purple in light of Tori's favourite colour and rallied together in solidarity to demand justice for Tori.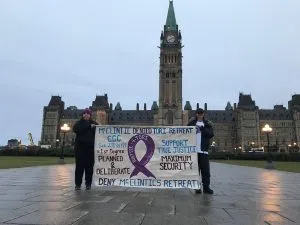 Tammy Everest was protesting at Parliament Hill for the event. She was happy to see everyone turn out for such an important movement.
"This is great to see this many people here protesting for this cause. This is about fair justice. This is about maintaining justice for a little girl who's not here today. She doesn't get another breath of life, another day, another year. This woman should not be obtaining any leniency at all. She should not be getting any retreat, any hope."
She among many other protesters were there send their message personally to the government and Prime Minister Justin Trudeau.
"They really need to reconsider this decision that they've made. It's not right, it's not fair, and it's unjust. It just shouldn't have happened," she said
Corrections Canada is currently reviewing the transfer of McCLintic and may put her back behind bars where protesters demand her to be.
Conservative MP's who were opposed to the McClintic transfer and tried to fight it in the House of Commons also attended the event. Rachael Harder is a conservative MP for Lethbridge. She provided her opinion at the protest to the decision that the Liberals made on the transfer.
"McClintic killed an eight-year old girl. The government believes it's a good decision then, to take this individual and put her in a facility where she has access to your children. In what world does that make se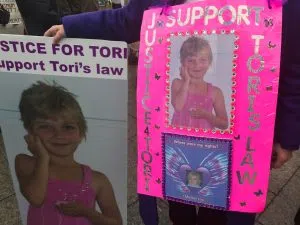 nse. In what world does that stand for justice. In what world does that stand for peace and security and the safety of Canadians. In what world does a feminist Prime Minister stand against an eight-year old girl and the justice she deserves."
Conservative MP for Parry Sound, Tony Clement was also at the event to speak about the Liberals decision to send McClintic's to the healing lodge.
"When conservatives talk about justice, we know it's also justice for Tori. We will keep fighting for change. We will keep fighting for justice. Terri-Lynne McClintic does not deserve to be at a healing lodge. She deserves to be behind bars. You have our support."
Clement continued to say that justice for Tori may never come while Trudeau's Liberals are in the Parliament building, but justice will be served once the Conservatives are back in power.
Purple was also worn today outside of the courthouse in Woodstock to signify justice for Tori. Supporters are full-fledged across the country and Rodney Stafford could not be more proud.