Tori Stafford was only eight years old when she was kidnapped, sexually assaulted, and murdered by Terri-Lynne McClintic and Michael Rafferty.
McClintic had been sentenced to:
– a life sentence
– federal prison
– no parole for 25 years
but was recently transferred to an Indigenous healing lodge in Saskatchewan.
Healing Lodge
The purpose of a healing lodge is to improve the representation of the indigenous since traditional prisons often do not meet the needs of indigenous offenders.
There has been controversy around if McClintic even is indigenous, and also the severity of her crime.

Woodstock Protest
Around 200 people surrounded the courthouse in Woodstock today to protest the transfer of McClintic.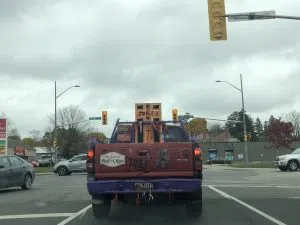 "SEND HER BACK!" 
This was chanted throughout the protest in anger.
Signs read:
"LIFE MEANS LIFE"
"JUSTICE FOR TORI"

That were waved high and strong in high hopes to send McClintic back behind bars.
Tori's Law
Protesters expressed their want for a new legislation to pass for a better future. They want the legislation to assure any convicted child killer would spend the rest of their life behind bars in a maximum prison.
Purple
Many of the protesters, (along with locals through out the city) wore purple in support of Stafford because it was her favourite colour.
Multiple cars covered in purple cruised through out the city, honking for justice.