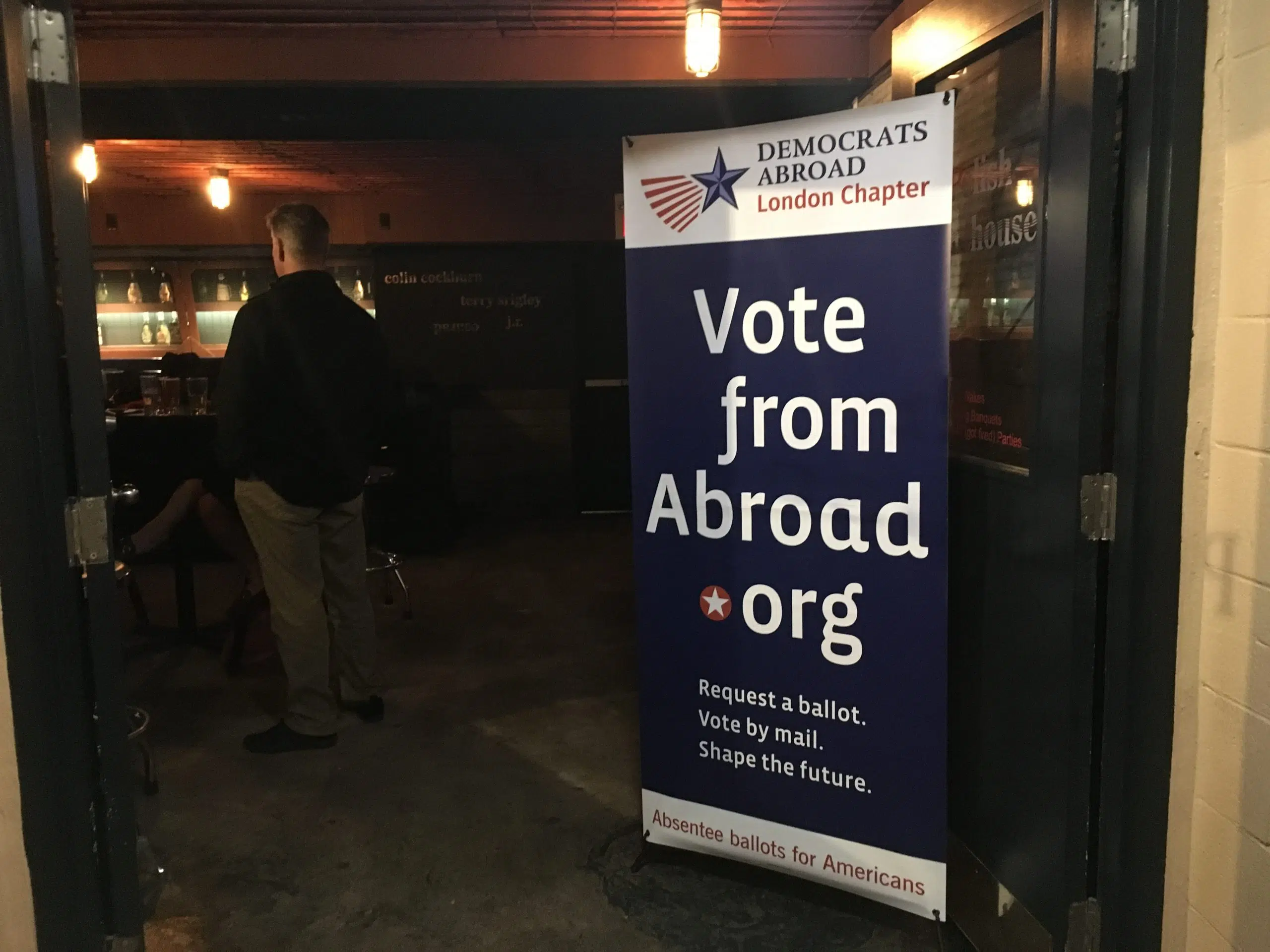 Democrats Abroad is an official organization by the Democratic party. The organization encourages those with an American citizenship to vote regardless of where they are in the world. London's chapter met up at Joe Kools on Richmond row to watch as the polls were rolling in. Genia Bermitt, the chair of Democrats Abroad London chapter, said she joined because she wanted to join the Democratic party.
"Back when George W Bush was president, it seemed like there was an awful lot of war happening and there were no weapons of mass destruction.  I knew I was going to vote Democrat and I voted Democrat, but I had never become a member of the Democratic Party. I thought, well, how can I choose who to vote for, for the Democratic Party so I can get a candidate, you know, we can have a candidate that would win. I wanted things to be better and different." Said Burmitt
All that were in attendance are American citzens from a variety of states. Burmitt is from Maryland, some others in attendance are from Virginia, Illinois, and Washington. Almost all in attendance are concerned about the current climate of American Politics. "I think it's really ugly and chaotic." Said Burmitt
"I think that the administration that we have right now in the White House, he was making people vote out of fear not out of, you know, knowledge. And I think that educating people and having them understand, you know, um, what, what votes mean and what the constitution says and what you can and can't do." Burmitt added.
Burmitt expressed that she is concerned for her daughter if she decides to go to school in the states as a duel citizen. "I'd like to be able to say to my daughter, Sienna, honey, if you want to go to school in the United States, you know, I mean, you should be able to do that. You're American. But honestly, I'm afraid. I'm afraid right now. I wouldn't want her to go to the United States." Said Burmitt.
She is especially concerned about gun control. " You know, there's just too much crazy stuff happening. Whether it's, you know, you're in a, you're in a university or in a school, you're at a church, you're at a movie or a mall, you're at a concert and somebody is going to come in and start shooting.  It's just crazy. We don't have that here in Canada because we've got some gun control in place. And uh, I certainly don't want to see Canada go that direction. So I just feel like it's, it's less safe in the United States right now."
The Democratic party has regained the majority of the house. However, is the minority in the Senate.  "Donald Trump's unchecked hold on power is at an end!" Said Burmitt.
Burmitt continued, "The 2018 midterms were a landslide for women voters and women candidates. Of course, regarding the Senate, Democrats live to fight another day. We faced an uphill battle there this year because we were defending 26 seats, whereas just 9 Republican seats were up for grabs. Trump will continue to have a Republican majority, delighted to confirm his executive and judicial appointments."
"So, we did not quite get the blue tsunami we hoped for, but there were enough victories to give us control of the House for the first time in 8 years. This puts teeth into congressional oversight of the Trump administration." Concluded Burmitt.