The NHL season is underway but not in the way that many puck stoppers were hoping. At the 15 game mark for most teams suggests time for an update as many goalies are struggling to keep the puck out of the net. Along with the rankings comes time for the goalies to return to their normal self as it is so early in the season. Although some goalies have had early struggles, many have blossomed at their chance between the pipes and given themselves starter status. Here is the goaltending disappointments to start the 2018/19 season.
5. Jake Allen (STL)
The St. Louis Blues starter has struggled to start the season to say the least. Allen is sporting a disastrous .879 save percentage and giving up just below four goals a game at 3.99. Sitting with a 4-3-3 record the 28 year old has been trying to prove himself to be a starting goalie in the NHL. It may be time for St. Louis to consider their options looking between the pipes if they want to be serious contenders.
4. Jonathon Quick (LAK)
The veteran starter has gone winless on the season with a 0-3-1 record. The 32 year old Stanley cup champion has since undergone surgery on his knee for a torn meniscus. Quick's short stint playing 4 games before the surgery were not promising, as he has a save percentage of .845 and goals against average of 4.55. The Kings season struggles continued forcing head coach John Stevens to part ways with the club. LA needs Quick to come back in what the 2012 playoff run proved he could be.
3. Braden Holtby (WSH)
Hopes were set high for the Stanley Cup Champions with a possible repeat in sight. The Capitals are middle of the pack and have not been able to rely on their all-star goalie, Braden Holtby. The 29 year old has a 4-3-2 record which may not seem bad but looking beyond the record has cause for panic. Holtby has a .888 save percentage and 3.62 goals against average which does not even compare to the goalie that Washington won a cup with. Look for Holtby to come back to his regular self after a slow start to the last season as well.
2. Sergei Bobrovsky (CBJ)
Things did not seem great for Bobrovsky long before he played his first game of the 2018/19 campaign. The former 2 time Vezina winner blew off a meeting with GM Jarmo Kekalainen to talk about the upcoming season. Bobrovsky has been frustrated with management in the past and this proved more resentment towards the team. The start of the season has been nothing like what the Russian has proven in the past. He only has 3 wins thus far with 6 losses to add to it. Not only is his win count down, a .895 save percentage and 3.33 goals against average is nothing to brag about either. Columbus has got some key defencemen back in their lineup but theirs a chance their goalie could be on the trade block during or at the end of the season.
1. Matt Murray (PIT)
Murray has missed substantial time in his young career because of lingering head injuries. To start the year some time was missed but when he has played it hasn't looked like the back to back Stanley cup champion that we have seen. Murray has a 4-4-1 record backed up with a frightening .886 save percentage and 3.87 goals against average. The 24 year old starter has struggled with consistency as a starter for the Penguins. Once Murray gets healthy expect the young netminder to improve into the star he can be.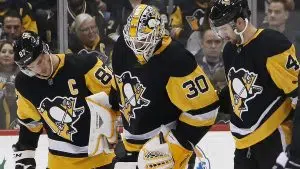 To stay positive the light has shined brighter on some goalies that started the year in a shadow. Although some have had early struggles many have blossomed at their chance between the pipes and given themselves starter status. This brings us to the surprising starts to the year for goalies around the league.
5. Keith Kinkaid (NJD)
Kinkaid has seemed to be the go to guy for the New Jersey Devils this year. The 29 year old started the year to be on the bench for Cory Schneider but tables seemed to have turn when Schneider suffered hip problems. The undrafted talent has made a name for himself with a 6-4 record and .919 save percentage to go along with it. Kinkaid's goals against average sits at 2.52 including a hiccup of a game when he gave up 8 goals in 45 minutes. Expect Kinkaid to continue to mature as the starter in New Jersey leaving Schneider in his dust.
4.David Rittich (CGY)
The Calgary Flames are very happy with the way Rittich has surfaced. The 26 year old has a 4-1 record that saw a loss against the Montreal Canadians where he stopped 37 of the 40 shots he faced. A .927 save percentage and 2.24 goals against average are numbers that any goalie in the league would be satisfied with. Rittich has filled in for Mike Smith who is having early season struggles. Flames may see Smith turn things around allowing them to roll with two established puck stoppers.
3. Antti Raanta (ARI)
The finish goaltender had a a dreadful start to the season but the team seemed to turn things around. Raanta has been a key piece in the turnaround of the team. Raanta currently has a 5-4 record with 4 of his last 5 games resulting in wins. Arizona's starting goalie has stats that you can't shrug your shoulders at with a .929 save percentage and 2.10 goals against average. Raanta was brought to the desert to be a starter that many people doubted but things seem to be going his way. Raanta still has a lot to prove to become an elite goalie in this league.
2. Juuse Saros (NSH)
It is not easy playing in the shadow of a Vezina winner, however Saros has done an outstanding job taking over in Pekka Rinne's absence due to injury. Saros has proven to himself and the Predators that he can be among the elite in the league. Saros has a 6-2 record and a .917 save percentage along with a 2.50 goals against average to go with it. The 23 year old Finnish netminder has a bright future to possibly take over his superiors job between the pipes. Expect Saros to keep up with Rinne and overcome him in the next few years.
1. Jaroslav Halak (BOS)
What a start to the season it has been for the 33 year old. Not many, if not no one expected Halak to go into Boston and take over Tuukka Rask's starting position. The former Islander who signed with the bruins in the off season has showed that age is just a number to him. Halak has a 4-1-2 record and numbers that have him at the top of league in most categories. His .952 save percentage sits third in the league and a goals against average of 1.45 sits second. Bruins fans are relieved to have his presence in the blue paint. Rask could return to his normal self but may not be enough to take over the starting job if Halak keeps up with these numbers.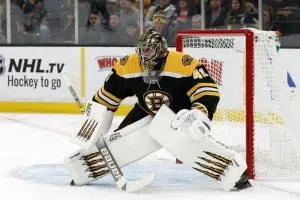 *All stats are current as of November 7, 2018