On a chilly Friday morning, the newest monument at the Wolseley barracks was unveiled to the public.
The new monument is a replica of the Canadian Army's LAV 3, which was greatly used in the Afghanistan conflict. The vehicle was used mostly for the transport of troops across the desert. The LAV has been dedicated to the many Canadians who gave their lives in the Afghanistan fight.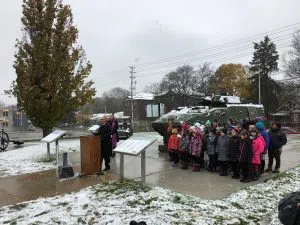 Students in Fanshawe's welding program assisted in the construction of the monument, working along side the company that was commissioned to make it.
Fanshawe's president Peter Devlin was present at the unveiling, and says students were very eager to work on this project,
"It wasn't a welding class they were involved in, they were involved with pride in building a national monument. That really made me feel proud and made my heart swell."
Devlin has spent a portion of his professional career as a part of the Armed Forces. He was stationed in Afghanistan as a commander in the Canadian Army, and has served in places like Yugoslavia, and Cyprus.