Western University officially reached a tentative strike negotiation at 2:05 this Friday morning. Western University and its Faculty Association (UWOFA) have decided to put the students best interests first: no strike will happen, however, further negotiations will continue.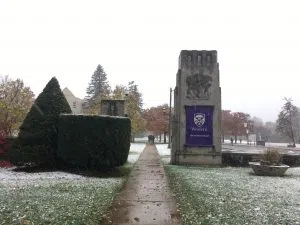 The negotiations went past the legal deadline on Thursday. This would have made a strike perfectly legal. Negotiators decided to continue speaking until 2:05AM in attempts to come to a compromise. The compromise reached was a tentative agreement, where negotiations will continue into late November without strike.
Terms of the agreement will not be disclosed publicly until after ratification. All services including classes, labs, tutorials and research, will continue as normal.
Students and staff walked somberly to class Friday morning, after a long night awaiting this news. Some students were upset to have to travel to classes on the first snow fall of the winter. Others were just glad that they will not have to go through the five week strike that Fanshawe had to last year.