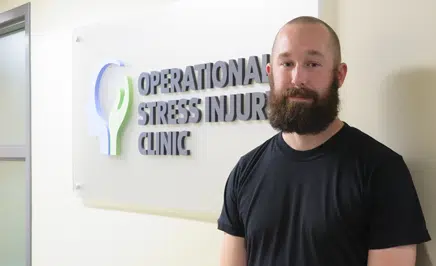 After serving in the Canadian Armed Forces as an Infantry Soldier at 21 years of age, Wes McTeer now struggles with Post Traumatic Stress Disorder.
During his time in the military, McTeer worked on the battlefield to clear improvised explosive devices from main supply routes in Afghanistan and mentored the Afghan National Police.
While on tour, McTeer experienced things that even intense military training could never prepare him for. During a roadside explosion that killed many around him, he witnessed the loss of a close friend.
"What I experienced there [Afghanistan] was quite a culture shock. It is really hard to describe, but through day to day operations we would clear main supply routes of improvised explosive devices and as a result I experienced devastating things… like experiencing the loss of civilians, police officers and Canadian soldiers. As well though, I experienced a complete wide range of every human emotion you could imagine within my seven months over there — some of which occurred within seconds of each other. From absolute terror to moments of pure happiness, I experienced them all at the same time and It was really bizarre," commented Wes McTeer, Canadian Armed Forces veteran.
McTeer knew from a young age that he wanted to join the military. He even has journal entries that date all the way back to grade one to prove it. So after briefly attending the automotive mechanics program at Fanshawe college, he decided to enlist in the army. Seeing that Afghanistan was at its peak of the combat mission, his application was quickly accepted.
It was then in 2008, that McTeer was sent to Afghanistan for a seven month long tour.
"I think what training cannot prepare you for, or at least could not prepare me for, was the loss of a close bond or friendship. The training in the Canadian military is probably second to none and I felt extremely confident doing my job. They make it as real as possible, but when they simulate casualties and you conduct your training exercises, those casualties are actors…or people playing victims that you do not have that close connection with. When it actually happens, and it is your best friend or the person to your immediate left or right, training teaches you to conduct yourself as a professional soldier and complete the necessary measures. Afterwards though, when you have time to think about it more, you think about the close bonds and friendships that you had [with those people]. That is something that training could never prepare you for — and I am not sure that it ever really could," said McTeer.
The day after losing his friend, McTeer was on the battlefield continuing to serve our country.
At the end of his tour, McTeer returned back to Canada a different man then when he left. For nine years he battled with PTSD on his own and avoided his problems by isolating himself from those around him.
"I isolated myself from comrades in the military, friends, and family. I was really boxing myself in an undesirable world and I faced some struggles in my personal life that ultimately brought me to my breaking point. Eventually, this lead me into walking into a Veteran's Affairs Office one day in tears, because I did not know where else to go or what to do — I just needed someone to talk to," said McTeer.
It has since been 14 months that McTeer first sought out professional help and has been attending appointments at the Operational Stress Injury Clinic at the Parkwood Institute in London. He says that the hardest part was being able to admit that he could not do this on his own.
"We [soldiers] are trained to bear the burdens of the world more or less…and to keep moving forward. So I tried doing that as best as I could and it worked for about nine years. Essentially, it was a nine year battle that I was not aware that I was fighting at the time. I really do not know what else I could have done other than reach out for help. I was out of options and I hit rock bottom," mentioned McTeer.
Now, Wes McTeer speaks openly about his struggles with PTSD to help end the stigma that is associated with soldiers asking for help.
"The reason I feel comfortable speaking so openly about PTSD now, is because I kept it a secret for such a long time…I decided to share the word because when I was first diagnosed with PTSD, I was not completely sure what it was. I thought it was the end of the world because I never heard anything good about it. Every time I did a Google search on PTSD or Canadian veterans, unfortunately a lot of the results returned things about suicide. I did not read, see, or find any stories of hope. So, I told myself if there is ever a time where I feel comfortable speaking about PTSD, that I wanted to create a space where people can find hope and know that it is not the end…I do not want anyone to feel like I did for all those years. I just hope that if someone is finding that they are isolating themselves, regressing, being too angry, or having suicidal thoughts — that they know that they are not in this alone."
*Photo Credit: Parkwood Institute London, Ontario*