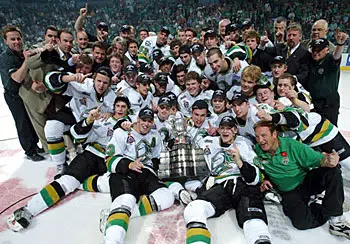 **London Knights Media Release**
On Thursday, November 22, 2018, the London Knights will be celebrating the 2004-2005 Memorial Cup Championship team that was named the CHL Team of the Century by the Canadian Hockey League and its fans.
"It is a tremendous honour to have that talented group of young men recognized as the greatest team in the history of the CHL," said London Knights General Manager, Mark Hunter.
"That was an incredible season filled with much excitement, many memories, and passion throughout the entire city of London and beyond. Winning the final game at home, in front of our fanbase was something that will never be forgotten. We are very appreciative of what our fans did for us that season and continue to do so every game."
The London Knights will conduct a pregame ceremony as well as in-game tributes to recognize the achievement of being named CHL Team of the Century. The ceremony will include appearances from several members of the 2004-2005 team with players including Corey Perry, Dave Bolland, Brandon Prust, Danny Syvret, Robbie Schremp, Robbie Drummond, and more.
Commissioner David Branch will also be in attendance for the ceremony along with the Memorial Cup. The current team will also be wearing specialty jerseys in-game in the same design as the 2004-2005 season. The pregame ceremony will begin at 7:00pm. As such fans are asked to be in their seats by this time to observe the proceedings.