Tragic accidents happen everywhere unexpectedly leaving many asking, were they wearing a seatbelt? Many answers to this horrifying question are negative. If this is a common question in this sad scenario then why haven't seatbelts been added to buses considering that many are transporting kids to and from school.
Like any vehicle on the road there is a chance at an accident occurring. Although buses are considered one of the safest modes of transportation, mistakes happen and after that can leave people mourning.
Canada's safety council states that they "do not believe seat belts on school buses would improve safety. There is no scientific evidence that lives would be saved." With this in mind buses supply many safety features other seatbelts to keep passengers safe like:
Seats with high backs
Seats filled with energy-absorbing material
Seats placed close together to form compartments
Strong seat anchors
These safety features still leave many people with unanswered questions including President of Badder Bus, Doug Badder. Badder bus lines have been adding seatbelts to their coach buses for 5 years now.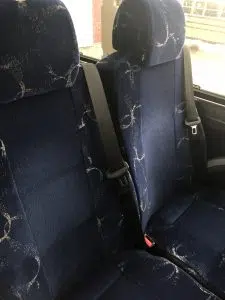 "It is really unsafe with the crashes where the people are ejected, that's where the deaths are occurring. If they get ejected the seatbelt would have kept them in the bus and wouldn't have died."
Badder believes that seatbelts will be added to school buses within 2 years and made mandatory.
Reenactments by the government and safety experts have been in process to make this decision. Time will tell if passengers are safer with or without seatbelts while riding in a bus.