The Western Mustangs have punched their ticket to the Vanier Cup.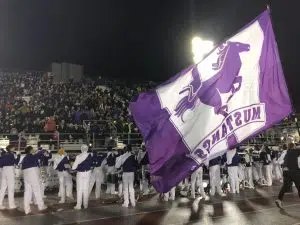 The Western Mustangs hosted the Saskatchewan Huskies in the battle for the Mitchell Bowl at TD Stadium. Western had a commanding 4th quarter leading to a 47-24 win. The Huskies scored an early touchdown, however the Mustangs were able to calm their nerves when Harry Mcmaster took a 21 yard pass to the house from Chris Merchant.
Western quarterback Chris Merchant battled through what looked to be a knee injury as he was seen hobbling gingerly on and off the field. The apparent injury did not stop the fourth year quarterback going 17 for 28 for 251 yards and 3 touchdowns which was good enough to earn MVP honours. Other notable games were Alex Taylor who rushed for 141 yards on 12 carries and had two touchdowns in support of Merchant, while Harry McMaster had 152 yards receiving and a pair of TDs.
The win gave the Mustangs their 23rd consecutive win. They will face Laval Rouge et Or, who owns the current record of 24 consecutive wins on Saturday November 24th in Quebec City. The Stangs are defending Vanier Cup champions after beating Laval in Hamilton.
Western realizes the challenge ahead of them but defensive lineman Austin Fordham Miller is excited for a repeat Vanier Cup final,
"It's a battle of titans, were gonna have to grind a lot to get prepared this week but i know they want us and we want them."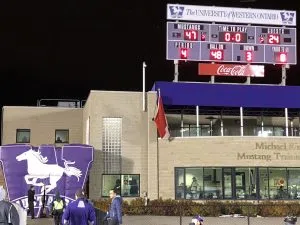 In the Uteck Bowl, Laval Rouge et Or shut out the St Francis Xavier X-Men, winning 63-0.
MUSTANGS WIN!!! The Western Mustangs are Mitchell Bowl Champions pic.twitter.com/X9r7wIhQEr

— XFM Sports (@SportsXFM) November 18, 2018