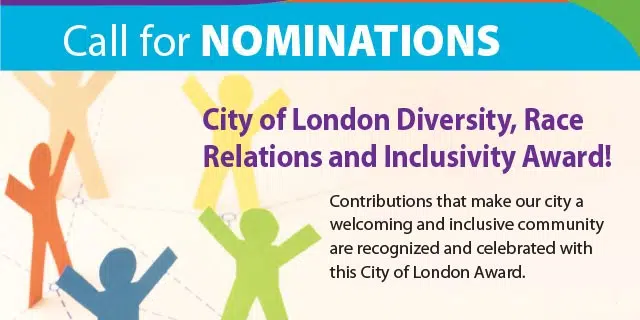 Mayor Matt Brown and 6 other City Council Members had their last City Council meeting last night. However, the night began with Mayor Matt Brown presenting 5 organizations with The London Diversity, Race Relations and Inclusivity Award(DRRIA).
The Award is handed out to organizations who are making a difference in London by it making it a more welcoming city. The following 5 organizations were recognized :
-N'Amerind London Friendship Centre
For their work on the "Youth First Cultural Exchange" program
(Category: Youth/Young Adults)
-My Sister's Place
For their work on the "Helping Women, Helping People" program
(Category: Social/Community Services Not for Profit)
-M.I. understanding
For their work on "Pride Understanding" videos
(Category: Small Business/Labour)
-Emancipation Day Organizing Committee
For putting together the "Emancipation Day"
(Category: Social Community Services Not for Profit)
-London Police Service
For their work on "Police Ethnic and Culture Exchange (PEACE)" program
(Category: Large Business/Labour)
Mayor Matt Brown said "It's exciting to see these people going the extra mile to help make our community stronger." Brian Hill is the President of the Board of Directors for The N'Amerind Friendship Centre and he thanked the Mayor City Council members for making the doors to opportunities open a lot wider for his organization over the last 4 years. The N'Amerind Friendship Centre is a non-profit organization who promote an overall well-being of not only aboriginal people but the community of London as a whole.  Hill says the award means a lot to them.  "It's good recognition for the work we are doing in the City. " Tonight you can visit N'Amerind for their Let's Eat Together free dinner from 4 until 6 PM.
The award ceremony wrapped up with another award going to a real life Mrs. Claus. The Senior of the Year Award was presented to Mrs. Claus, Jeanny Alpaerts. Alpaerts does tremendous work with the Angels in the Night homeless shelter project who provide food and clothes to shelters and the less the fortunate. The organization is spread through 11 cities across Canada, including London. You can catch Mrs. Claus every Saturday in December with at Cherryhill Village Mall with Santa Claus.
M.I. Understanding video