Busy traffic in London is a frequent source of stress, anger, and anxiety. And this issue, like your car in a traffic jam, isn't going soon.
The City Hall have some challenges going on, especially related to this problem.
The Traffic and Transportation Engineer, Jon Kostyniuk explains that they are trying to find ways to bring information about new systems that we already have available, and can help drivers.
"The City of London signed an agreement with Waze, who owned by Google. This app can push through all our road construction projects and road closure out there. So, as soon as something happens, and if you have the app, it shows up there."
Spending hours stuck in traffic may take a toll on your health.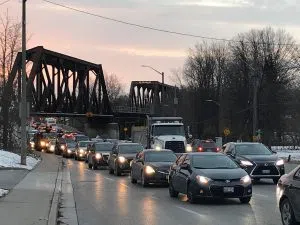 The Clinical Counsellor Lourdes Assis says that get frustrated with the traffic can bring lack of sleep.
"You are going to be irritated for one single thing that may happen during the period of time in traffic, and somehow, this will be very negative to your health."
The best solution is to steer clear of traffic congestion whenever possible.
Jacklyn Caveden says that the most hectic part of her day is driving through the city.
"I'm always trying to avoid the rush time, and because I have flexibility with my schedule, I'm trying to avoid the streets before 9 AM and after 4 PM in London."
Sitting in traffic is also an extremely unpleasant experience. It can cause one to arrive late to work or miss important appointments.
A good way to keep drivers calm behind the wheels is maybe trying to take advantages of this situation. Stretching and listening to music are alternatives to make drivers more relaxed.
Learning to keep a cool head in the face of modern life's daily stresses is as essential as a healthy diet and exercises every day.