This year students in grade 3, 6, 9 and 10 will get extra help during the two biggest school assessments in the province: the Ontario Secondary School Literacy Test and EQAO. Ontario's Education Quality and Accountability Office say students will be allowed to use headphones, online calculators, and language support when writing their test.
"We used to cover up anything that was related to math, or literacy. Now, we are being asked to keep the environment as similar as possible for students, just like any other class. We are also allow to have some of the words we used in math," says Ruth Inglis, Principal at Westminster Secondary School. 
Educators and students are happy with the new rules, but many people have reacted in social media commenting that this decision will only make the new generation less smart. According to recent EQAO testing results, math scores have decreased in the elementary level in the past 5 years.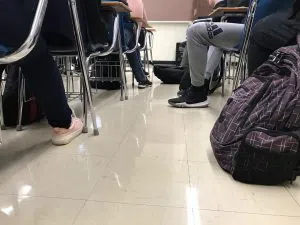 The goal is to reduce stress and anxiety in students.
"A lot of students tend to stress during tests. I know a lot of people who like listening to music because it lowers their stress level and listening to music during the test calms you down," says Rayane Assaff, grade 10 student at W.S.S. 
In the past, students needed to have an Individual Education Plan to have this type of accommodation. Now, anybody will be able to do so. This has raised questions, for instance, how will schools control what can be played, or prevent students from what parents are calling 'cheating.'
"Teachers are making sure that students are not able to use anybody else's work. Do students cheat? Yes, they do. Are we aware that they cheat? Yes, we are. Do we work hard so they are unable to cheat? Yes, absolutely. So we'll just continue to keep vigilant like we are in all of our assessments," says Inglis.
Assaff suggests students should listen songs without lyrics because having upbeat music could get the distracted. She says she personally would like to stay out of new rules and do her tests the old fashion way.
"I would like to do how I always do on a test because I think is more of a habit now. When I do homework at home, for example, I listen to music to block out any sound because of my siblings and there's lots of noises around."
Because the rules are fairly new to educators, they still don't know what measures they are going to take.
"We do have to be aware that we don't want to give them access to specific information. Maybe online dictionaries, but not full access to the internet to be able to search questions. One of the tools they are going to be allowed to use for sure is online calculators and desmos, both programs students regularly use in class," adds Inglis.