Thames Valley District School Board is in the midst of a waiting game with funding for school projects. TVDSB has been waiting for new upgrades and renovations,  additions, construction of a new school and a school closure. Although funding was approved by the Liberal government in January, since the Conservatives took over the Ministry of Education is reviewing education priorities across the province.
"The idea of playing politics with the educational needs of the children, is really quite frustrating and we certainly hope that's not the case."

– Tracey Leckie, parent of two and chair of the parent advisory council at Masonville Public School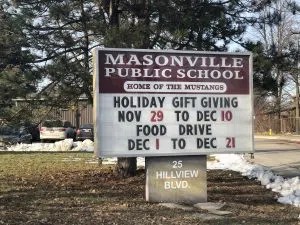 Masonville Public School is just one school in London that's affected. Masonville has been waiting for additions to their school for 5 years now. There are 13 portables housing more students than the actual school is capable of, as enrollment numbers keep increasing. Tracy Leckie is a parent of two that attend Masonville Public School. Leckie, also chair of the parent advisory council says student's learning environment impacts their education.
 "You're dealing with a lot of students in a small tin box. There's no running water out there. They can't wash their hands. There's no bathrooms out there.  Kids as small as 7, out in portables that have to walk into the school for all of their needs throughout the day. That results in, not only  uncomfortable situations but also it limits instructional time because there's a lot of time wasted making all of those transitions."
Masonville has tried several times over the course of 5 years to receive funding for additions to their school. Now the funding is finally approved, but still stuck waiting. As delays continue, Leckie says their frustration is growing.
"These kids could be housed in a better environment. It was already going to be about a year and a half project, but now that we've gone this long without anything happening it's quite discouraging."
 However, Leckie still remains hopeful.
 "We have missed 10 months of good weather building conditions for us to get this projects going. If it gets approved right away, we could actually get some shovels in the ground and make some progress."
TVDSB projects affected include:
Additons to Masonville Public School
Construction of a new school in South East London
Additions to Tweedsmuir Public School
Thame's Valley District School Board applied for funding in September of 2017 and received approval in January 2018. The board has been in constant consultation with the Ministry of Education.
On Tuesday Thames Valley informed the community and parents addressing that deadlines of the projects will not be met on time.
Students and their education will remain top priority moving forward.