Moms who opted to have a child also faced the scary moment of delivery – C-section or Natural birth?
The amazing moment to carry a baby, also come surrounding by many questions, fears, and desires.
C-section, natural birth and also unassisted birth – without the presence of a doctor or even midwife, are the options.
In London, 6.000 babies welcome this world every year, accordingly to London Health Sciences Centre – with an average of 475 births each month.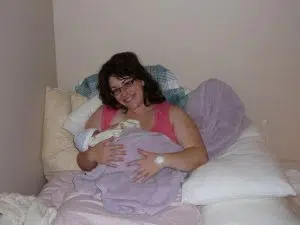 Amy Abeid chooses to have two of her three kids at home, which she said that provided her more comfort and security.
"The first birth home that I had was my son, and it was with the Midwife. I had such a great experience with her in my first birth at the Hospital, that the second time I didn't want to go to the hospital. Not that was a bad experience, but I felt confident that I could do it at home."
Her first labor with the first kid lasted 48 hours at the hospital, different than the second – at home.
"I was home, relaxed and we had this nice new finished besetment to sort of birth in, that I had him in five hours."
Natural birth is common in Canada, but for Natasha Cavalcante was a new experience. Not just because of her first pregnancy, but also the health system in Canada, that encourage natural birth.
"Actually, in Canada, we do not have an option. In my Country, C-Section is very common, so I was a little bit afraid to have this experience here. So, I read more about natural birth, and I faced it."
In Canada, cesarean sections now account for 28% of all births. London has the lowest C-section rate among academic hospitals in Ontario, and one of the lowest rates in Canada.
Emily Seeley passed through an experience of C-section with her three kids, not because she wanted to, but for complications and risk of preeclampsia.
"I was planning to have my baby naturally and with a Midwife, but unfortunately, I had a lot of problems with my blood pressure being too high, but I really wanted."
Maybe it is still a dilemma for many women. Natural birth, C-sections or labor without the presence of a doctor?
Doesn't matter how your baby is coming to this world, what is really relevant is that you make this decision free of judgments in your head, and always thinking about you and your baby's health.