The chill of the early afternoon didn't scare away London's francophone community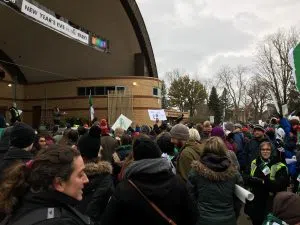 Adults, kids, and even dogs gathered at Victoria Park to protest the Ford government's decision to scrap the Franco-Ontarian University project, as well as cutting the Office of the French Services Commissioner of Ontario.
Community and Cultural Liaison Officer for London's French community Center, Melody Pilon, says the loss of a francophone university will have a huge impact on younger people.
"This effects a lot, particularly our youth that are trying to promote their francophone culture and language. By cutting this university we're severely impacting our growth and our
future."
The decision has come with much backlash from the Opposition at Queen's Park. NDP leader Andrea Horwath attempted to move legislation that would reverse this, but it was shot down.
MPP of London North Center Terence Kernahagn says that his party will continue to fight hard for this to be reversed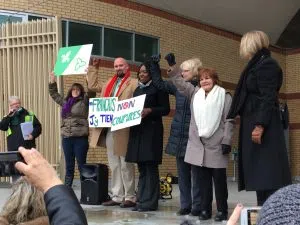 "We're going to keep the pressure on. An attack on one group is an attack on all of us, and we cannot stand for it."
Other MP's and MPP's  representing the Liberal and NDP parties were also in attendance. Some included Kate Young, Irene Mathyssen, and Mitzie Hunter of Scarborough-Guildwood.
The protest was peaceful, and included many speeches, chanting, as well as dancing and singing to celebrate French culture.
Pilon says it was amazing to see all of these people in attendnace
"My heart is so full. I'm just so happy to see that everyone cares so deeply to come out here and brave the cold. It has made me so happy."
Similar rallies we're happening across the province at the same time.