The London Knights are now on a 13 game winning streak! The Knights are a very dominant team and they put that on display in an 8-1 win over the Erie Otters. The Otters brought a physical game to the table meanwhile, the Knights brought speed and skill… The two biggest things that matter the most in the game of Hockey (Speed and Skill).
It was a night of firsts for a few members of the green and gold. Matthew Timms scored his first of the season by taking a stroll into the slot, and blasting it past the Otters goaltender. Timms had everyone fooled.
"Not going to lie I was thinking pass as well but, I kind of faked the goalie and myself out at the same time and it worked out. I would have liked to get my first one a bit earlier in the season, but the timing was right tonight."
London Knights rookie Luke Evangelista also recorded his first OHL point tonight. Evangelista caught everyone by surprise by drawing into the lineup tonight instead of Antonio Stranges. No one really knew why Stranges was sitting this game out, but Head Coach Dale Hunter always has a game plan and if putting in Evangelista instead of Stranges was the plan… well it worked out for both Hunter and Evangelista. Hunter got some production out of Evangelista and Evangelista got his first OHL point.
Connor McMichael has been gifted with something called "The Mac Attack", if you don't know what the "Mac Attack" is by now… it's a chance for Knights fans to walk away with a free big mac if the Knights are able to score a goal within two minutes after it's announced to the fans that it is taking place. Well, McMichael happens to have scored 5 of the last 6 "Mac Attack" goals… Hence the nickname Connor "Mac Attack" McMichael. London Knights captain Evan Bouchard has just the one "Mac Attack" goal. If that's not enough, McMichael didn't just score the "Mac Attack" goal… he also scored his first OHL hat trick. Which means, he also got to wear this fancy hat after being named first star of the game.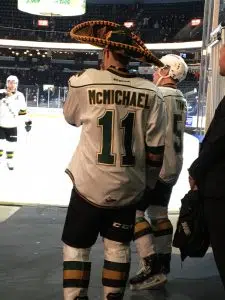 Even if the Knights are on a 13 game winning streak, they aren't putting too much thought into it.
"We always come in focused, and we always want to play hard, we never come in thinking were going to win the game, and that works for us, and we usually come out with the win when we think that way. So, were going to stick to that kind of mentality."
Those were the words of Cole Tymkin who is known to play a big part in the dressing room. After all, he does wear an "A" on his shoulder, and why wouldn't he? He leads by example on the ice, he conducts himself very well on and off the ice, but the main thing that he does to help simplify everyone's game on the ice is that he plays with his heart and he has fun. When you have that kind of player around the room… that kind of vibe is felt.
The London Knights will look to keep this winning streak vibe alive this Sunday as they'll face off against a struggling Sarnia Sting.