All aboard! The Canadian Pacific Holiday Train has made another appearance in London.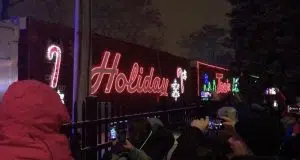 On Thursday night the skies of London were lit up from the shining lights that decorated each car of the train. London is just one of the stops along its journey across Canada and the USA. This event has been taking place since 1999 helping raise awareness for local food banks by raising money and collecting non-perishable food items. After 20 years of this community event food bank representative, Curtis Greaves is pleased with the annual progress.
"It does get bigger and bigger every year. I'm with ZTR and we're a proud participant collecting food and raising donations as well as trying to help out tonight being part of the event"
CP has raised more than $14.5 million and 4.3 million pounds of food. Many among the thousands of people at the event in London held bags full of canned goods and cereal boxes to give to CP representatives, who were ready to load items into vans and bring them to local food banks. In addition to the funds collected that night, CP presented a check for $7,000 to the London Food Bank.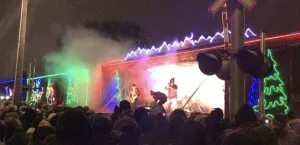 A few minutes after the train came to a stop before a drawbridge door opened from the trains centre car. Fog poured out of the opening as lights blinded the audiences eyes as Jo Jo Mason opened his concert with a Christmas classic to spread the holiday cheer in the city. Not long after the country singer left the stage, The Sam Roberts band hit it off with even more Christmas classics.
Not only were there singers to entertain the crowd, someone else made an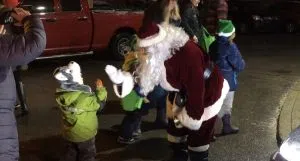 appearance checking to see who has been naughty or nice. Santa Clause put smiles on all of the kids faces as they got to tell him what they wanted for Christmas before they sent in their wish lists. Santa was excited to celebrate the season so early in the year.
"I'm bringing the Christmas cheer, people are gonna love it and have a great time tonight. HO-HO-HO"
Once the concert was over, the door closed shut and the train was off until the next Christmas season. The trains next stop is Chatham on Friday afternoon as it makes its way to British Columbia.