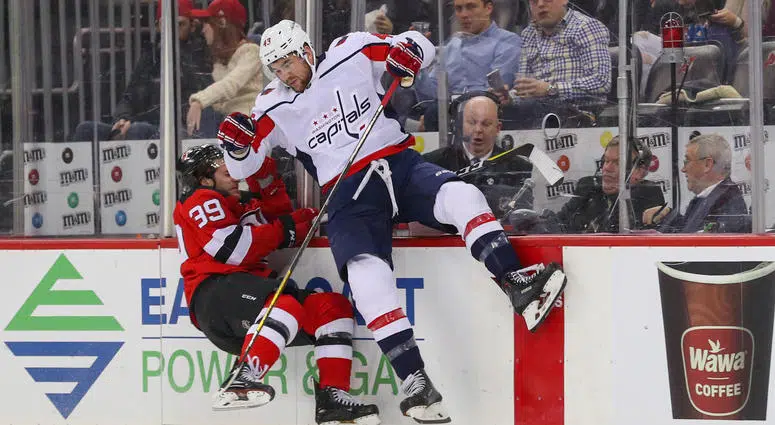 Tom Wilson has made a name for himself as quite a instigator ever since he joined the league in 2012. Wilson was drafted by Washington in the first round, and his highest point total was 35 points. But the Caps didn't draft him for his offensive skills. Granted, Wilson is a talented player when he decides to play, or when he's not suspended. Wilson could be compared to Brad Marchand; a pest who has talent when they want to stop ruffling feathers.
Tom Wilson has been ejected for a hit to Brett Seney. Right call? Judge for yourself.

Stream #CapsDevils live: https://t.co/Wn6LWyeTGx pic.twitter.com/COAetFl1l1

— NBC Sports Capitals (@NBCSCapitals) December 1, 2018
Just this past week, Wilson was ejected for a dicey check on Brett Seney of the Devils. Although he was dealt a game misconduct, he somehow managed to dodge yet another suspension. In his career, Wilson has racked up over 800 penalty minutes in 400 games. When it comes to suspensions, he has been suspended on four separate occasions, totalling 25 games.
Tom Wilson continues to be a dirty player, seems to not care about his actions on the ice, and isn't concerned about the consequences he will face if this continues. In an ESPN Radio interview, veteran referee Kelly Fraser said : "I've also maintained over the course of these playoff years since I've been watching that Tom Wilson is a predatory hitter. He's always on the edge, most often crossing it."
Wilson has a clear disregard for the rules and player safety, and he needs a real consequence before he seriously injures someone. The game is incredibly high paced, and player safety needs to be a top priority for both the players and the NHL executives.