Everybody needs a hug at some point. What is magnificent is the power of touching and how that can simply make someone feel better.
Adela Gorodzinsky is a Registered Psychotherapist in London and she explains what happens when we feel the need to hug somebody.
"Energy spreads into the arms and we want to do something with it. The most natural thing to do is to hug because we feel the energy coming out of the heart, into the arms and then we want to wrap around ourselves into the person that we think accept us the way we are and care about us."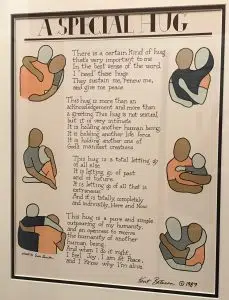 Canada is a multicultural country and that's something to keep in mind when hugging someone, but that should not stop you from showing affection.
Noor Alkaisi is a Fanshawe student in the Pharmacist Technician program. In Alkaisi's case and her Muslim background, hugging and touching is something serious.
"A male friend can't hug a female friend, only if they were engaged or married; family members can hug, but otherwise not. People think this is bad and wrong, but it is religion. If you want to say hi to someone, you can shake hands."
To the contrary to middle east customs, the Hispanic culture is known to be a hugging one. Children are taught in the early years that when they go to a family reunion, they must say hi and hug everybody in the party. Gorodzinsky comes from a Mexican background and explains why.
"We, as Latin people, throw ourselves into each other. Cultural boundaries are a lot narrower which means we get closer to each other and when we don't, we feel rejected, abandoned, and we feel that the person doesn't like us."
She adds that if humans are not shown affection when younger, the story might tend to repeat itself. Unless the person meets somebody that will teach them differently. 
In the Canadian culture, hugging and touching is only between family members, sometimes closer friends. Canadians are known for being polite, respectful, courteous, but physical affection isn't shown as much
"They are more held back in terms of affection. They may show it with their eyes or words, but not so much with their bodies. North american people may say hello and not even shake hands, but it doesn't mean that they don't care or they are not polite," adds Gorodzinsky.
Dr. Jack Albin, Psychologist in London says the human touch is essential in the early years. If a child is not hold or nurture, organic failure to thrive can occur. That usually happens to children younger than 2 years old and there is not medical condition why the poor growth.
"When a mother is holding a baby, there is a hormone the brains produces, called oxytocin. It's also called the love hormone. It instantly calms people down when being hugged and cuddled, helps them feel better, it even lowers blood pressure."