The REDress project was founded in 2011 by artist Jamie Black. The red dresses represent the on-going problem of missing and murdered aboriginal women in Canada. Since 1980, there have been over 1,200 reported cases of aboriginal women who were either missing or murdered. However, Victimization Studies show that only 30% of violent crimes are reported in Canada, making these number much larger.
Indigenous women make up only 4.3% of the female population in Canada. However, they are 4 times more likely to be murdered than non-indigenous women because of racism, sexism and colonial views. It's reported that 75% of aboriginal women will experience a violent crime by the age of 18.
Fanshawe is hosting The REDress  Project all week. The event is a collaboration of Fanshawe's First Nations Centre and Fanshawe's Sexual Violence Prevention.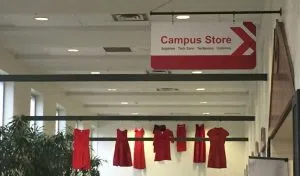 Leah Marshall is a Sexual Violence Prevention Advisor and she says they use red dresses and the name because it's a play on words.
"Redress is to remedy yourself right from a situation and so the dresses are red, red dress, REDress"
People can stop by The REDress Project booth from 10 AM until 2 PM this week, located across from the Campus Store.