With temperatures getting lower, don't forget about your furry friends. Even in the winter months, there are risks and dangers of leaving a pet unattended, in a vehicle or outside.  Pets are a part of the family and that's what London's Neighborhood Pet Clinic believes their "Be Pet Aware" program reminds owners of. Director of Health Services, Alec Martin explains why they started the initiative.
 "The plan was to put these logos in the parking lot, to remind people not to leave your pet unattended. The best advice we give is to leave your pet at home and not bring them everywhere."
 When pets are left outside or in a non-running vehicle for an extended period of time it causes health concerns, especially during the holidays when shopping and running errands becomes more time consuming. But there are also more risks for pets during the wintertime. Everyone bundles up in the cold winter months, so why not our pets? Pet clothing is becoming more common and Martin says owners are protecting their pets, it's not just for fashion.
"We're seeing more and more people all the time putting boots on their pets and putting coats on their pets. The most vulnerable parts of a pet are usually the feet, ears and tail. The extremities are all very susceptible to frostbite."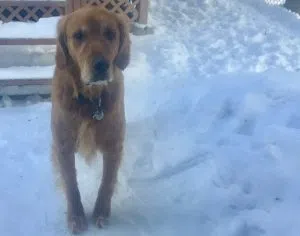 Neighborhood Pet Clinic advocates for animals all year round reminding pet owners to never leave animals unattended in vehicles, no matter the season. Martin says they want to create more awareness.
"People really, seriously underestimate the stress and the risk for the animal's lively hood. Pet's are family and the more voices that are singing the same song the more likely it will start to sink in."
The best thing pet owners can do is simply leave your pets at home, rather than leaving them out in the cold or in a vehicle to fend for themselves. If you see a pet in distress, first look for the owner in a nearby store or area and then the next step would be to call police or the humane society if further action is needed for the pets well being and safety.