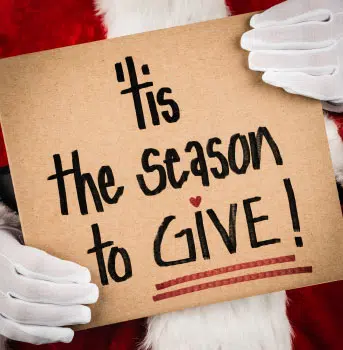 During the holidays it's important to think of others and not always about yourself. There are people out in the city that can't afford to have warm clothing or food not just during the holidays, but all year long.
When preparing for the holidays it's important to give back to people who might not have a lot. Every year places like the London Food Bank help by collecting donations from the public with the hopes of collecting enough food to help those who are not able to have a Christmas dinner. Christmas is a wonderful time of year and nobody should go cold or hungry.
The London Food Bank isn't the only charity around London looking to give back during the holidays. Another popular charity event is the Toys for Tots event. Every year the Canadian Armed Forces team up with local businesses and concerned citizens with the hopes of collecting enough toys for children who don't get the opportunity to unwrap a gift on Christmas Day. Toys for Tots President and Master Warrant Officer Robert Krizanec spoke to XFM News about ways you can help them reach their goals. There are multiple locations you can donate toys to, Canadian Tire and Vogue Optical being the main ones.
Another way to donate to Toys for Tots is by going to their website and making a donation online. Sometimes it's hard to go out and buy a toy and get it to a drop off location, so by making an online donation, the volunteers are able to take that money and go out and buy things for age groups that might not have as many donations.
It doesn't always have to be humans that you donate too. The London Humane Society has created an event where you can purchase homemade toys and treats for your pet and every dollar raised goes back to helping the shelter save animals who might not be fortunate enough to have a loving home.
For more information and locations you can purchase these pet gifts you can check out the London Humane Societies website.
It's always nice to think of others on a regular basis but during the holidays it is most popular because days like Christmas really remind us how fortunate we are to have presents under the tree, or a family that loves us or that classic family dinner tradition.
Some people don't get the same warm and cozy home feeling for Christmas so it is important to give back to others. London has plenty of ways you can give back during the holidays. It's always nice to give back to those who are less fortunate, and help give back to your community.