For 3-time Golden Boot winner and semi-professional striker for FC London, it is no surprise that Jade Kovacevic is poised to make a splash in Ontario College Athletics Association's (OCAA) women's soccer league. Though what may have been surprising to spectators was just how many splashes that entailed.
K-O-V-A-C-E-V-I-C
Count the letters… that's how many goals Jade scored herself (9) in what turned into a 16-0 barrage against the Lambton Lions on Saturday evening.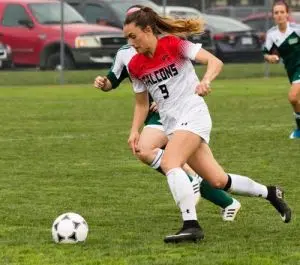 This game marks records both personal to Kovacevic and across Ontario college history:
Kovacevic's personal game high in scoring (prev. best was 6)
Most player goals in a single match (old record was 7 set in 2000)
Most goals by Fanshawe in a single match (old record was 11 set in 2007)
Tomorrow marks the start of a 3 game road trip, Jade Kovacevic will look to lead the OCAA in career scoring. (currently ranked second in the OCAA with 58 career goals)
The Fanshawe Falcons head to Windsor tomorrow evening for their first on-the-road game of the year against the St. Claire Saints.
CHECK OUT OCAA's OFFICIAL 2018-19 Women's Soccer Schedule.