Broken families and an entire culture wipe-out. Generations of Indigenous people are still deeply affected by the impact of residential schools. Orange Shirt Day is recognized all across Canada on September 30th to honor and remember residential school survivors, and also those who did not make it home.
Sheree Plain is Anishanaabe Kwe, a recent Western graduate of First Nation Studies and also has her diploma in social work.  Plain's Father is a residential school survivor and felt the effects of the school system and being stripped of his culture and identity, eventually turning to alcohol.  Plain says she never fully understood him or her culture's past until her studies.
"With social work and my professors behind me I was able to actually turn around and look at it in a different way to focus on healing."
Despite many hardships her life, Plain is choosing to move forward.
"I think it's a huge thing to be able to break the cycle. I was angry, but after having my kids, I think that's when I learned or that's when it clicked that I really don't want my kids to see the thing's that I've seen growing up. We're getting back to the culture. We're starting to really look back at our roots and understanding who I am

 as an Indigenous women."
Understanding of the culture and education is important for young Indigenous people. That's why there are options in the classroom. Lauren McLaughlin with the Thames Valley District School Board and is a coordinator for an the Indigenous program, school within a college.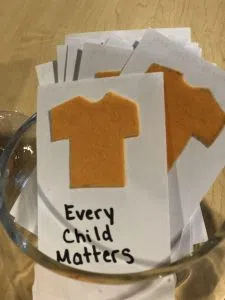 "Offering them services that are unique and specialized based on their needs, based on their culture, their spirituality is integral for reconciliation."
Although this is progress, there is still a long way to go to forgiveness. McLaughlin says that all Canadians, of all backgrounds need to be educated in truth about residential schools and history of Indigenous people.
"We're all treaty people. But up until recently, our school system never taught about the residential school systems. So there's still a lot of misunderstanding and ignorance and racism and bigotry towards Indigenous people." 
Schools and communities have been honoring Orange Shirt day leading up to September 30th, to recognize residential school survivors and the many generations of pain that followed. This stands as a reminder to Canadians every year, that many did not live to see the evolution of Indigenous culture.
To see more about Orange Shirt Day and the history of the story behind it, visit this website.
Orange Shirt Day awareness walk at Western University to honour and remember residential school survivors. #OrangeShirtDay2018 pic.twitter.com/0atmIcwbCu

— XFM News (@XFMNews) September 28, 2018